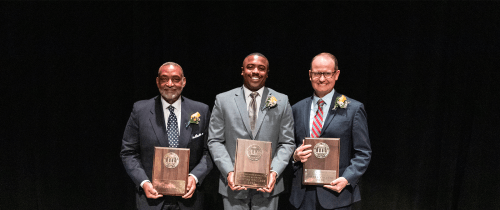 Centre celebrates quartet of distinguished alumni during Homecoming '22
Centre celebrates quartet of distinguished alumni during Homecoming '22
Andrea Zawacki Beaton '01, Keith Mathis '76 and Herb Stapleton '97 were each recognized as Distinguished Alumni and CJ Donald '14 was honored as the 2022 Young Alumnus during the Alumni Recognition Ceremony at Homecoming on Oct. 15.
Andrea Zawacki Beaton '01, Keith Mathis '76 and Herb Stapleton '97 were each recognized as Distinguished Alumni and CJ Donald '14 was honored as the 2022 Young Alumnus during the Alumni Recognition Ceremony at Homecoming on Oct. 15.
The Distinguished Alumni Award honors alumni who have "given outstanding service to Centre College and/or to humankind."
Andrea Zawacki Beaton '01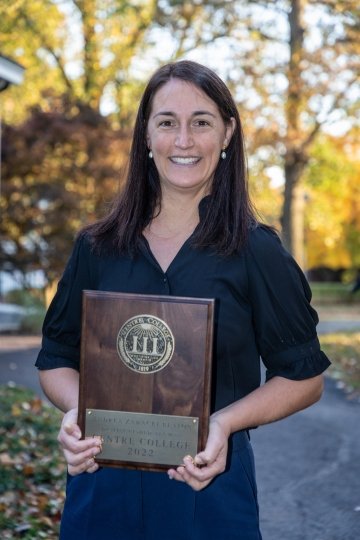 Beaton excelled at academics and athletics at Centre, playing soccer, volleyball and tennis. The Georgetown, Ky. native was a regular volunteer with Big Brothers Big Sisters and the Woodlawn Children's Home. She joined CentrePeace in 1999 and pledged to Kappa Alpha Theta. She graduated with a B.S. in psychobiology and was awarded the Fred Vinson Honors Award for athletic, extracurricular and scholastic achievement, as well as the Gavin Eastman Wiseman Valedictory prize. She was named the Female Athlete of the Year in 2001. In 2005, she married Benjamin Beaton '03.
Beaton is a 2006 graduate of the University of Louisville Medical School. In 2013, she  completed a pediatric cardiology fellowship at the Children's National Medical Center in Washington, D.C. and launched her career focused on global cardiovascular research.
She was awarded the College's Young Alumna Award in 2013 and has since returned to Kentucky. Currently, she is a member of the cardiology team at Cincinnati Children's Hospital with a clinical outreach practice in Louisville. She and her team at the Cincinnati Children's Hospital recently received an $8 million grant from the Leducq Foundation to help fund a project focused on acute rheumatic fever. She serves in leadership roles with the World Health Organization, American Heart Association and World Heart Federation.
Keith Mathis '76
Mathis, a Paducah native, was a member of the pre-med society, Black Student Union and Phi Kappa Tau on Centre's campus. He played football under Head Coach Herb McGuire and was a catcher on the baseball team. He majored in psychobiology and returned to Centre in the fall of 1976 as a two-year graduate fellow, working as an admission counselor and assistant football coach.
In 2000, Mathis and his wife, Karen, founded Netsales & Arts, Inc., affectionately known as NSAI, to market and sell art, specifically local bronze work. More recently, the company transitioned to NSAI Energy, for which Mathis serves as president and CEO. The business is recognized as a certified Diverse Business Enterprise by the California Public Utilities Commission. Mathis' leadership extends to the American Council on Renewable Energy and to the Solar Energy Industries Association.
Herb Stapleton '97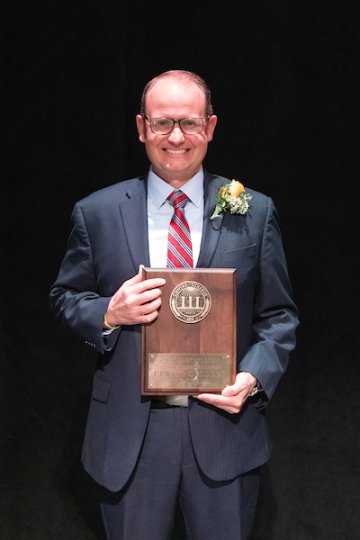 Stapleton was a member of the Beta Theta Pi fraternity at Centre, where he was also selected as a John C. Young Scholar. After graduation, he earned a law degree at the University of Kentucky, followed by work at Huddleston Bolen in Huntington, West Virginia. He married Emily Jean Eicher '98 in 1999.
Impacted by the 9/11 attacks in 2001, Stapleton was inspired to do more for his country and made a life-changing decision. In 2004, he earned a position at the Federal Bureau of Investigation. He was later promoted to the role of supervisory special agent and was transferred to the Internet Crime Complaint Center Unit (2011). Stapleton's career advanced to Section Chief of the Cyber Division at the FBI Headquarters, and he now serves as Special Agent in charge of the Indianapolis Field Office for the FBI. 
CJ Donald '14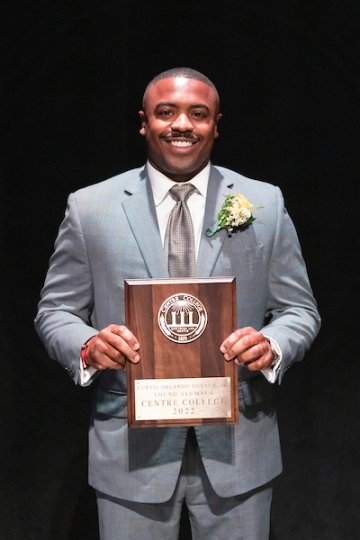 Donald was the recipient of the Young Alumnus award for 2022. The Memphis, Tenn. native was awarded a New Horizons Scholarship at the College and was an active member in the Phi Kappa Tau fraternity. He was voted Homecoming King in 2013 and was the recipient of the Max P. Cavnes Prize, awarded to the "best-loved and most-respected senior man and senior woman, as determined by his senior classmates." He received a B.A. in government from Centre in 2014.
Donald went on to earn a law degree from Vanderbilt University in 2017. He was admitted to the bar in Texas and Kentucky, and in 2020 was elected to the Board of Directors of the Dallas Association of Young Lawyers. There, Donald is active as a mentor for young lawyers and law students. More recently, he and his spouse, Emily Robbins Donald '14, returned to Kentucky and in 2021, he joined the Centre College President's Advisory Committee and the Board of Governors for the Centre College chapter of Phi Kappa Tau.
---
Pictured at top from left to right: Keith Mathis '76, CJ Donald '14 and Herb Stapleton '97. Not pictured: Andrea Zawacki Beaton '01.