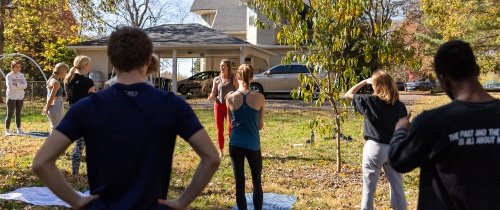 Centre community comes together for fifth annual Building Bridges and Community Day
Centre community comes together for fifth annual Building Bridges and Community Day
Centre College had a record number of participants in its fifth annual Building Bridges and Community Day, hosted by the Office of Diversity and Inclusion.
The fifth annual Building Bridges and Community Day at Centre College welcomed a record number of students, faculty and staff across more than three dozen event offerings, with 934 members of the Centre community participating. 
Since its inception, Building Bridges and Community Day has helped foster inclusion and a sense of belonging across campus. Classes were offered on a truncated schedule and campus offices closed early for the daylong event, which was hosted by Centre's Office of Diversity and Inclusion. The offerings featured inclusivity training, sharing forums and discussions about differences in perspective, as well as "bridges," events or space where people are invited to engage while learning a skill or practice ranging from field hockey to yoga.  
"I love Building Bridges and Community Day, because there is so much to learn from the richness of diverse experiences, cultures, identities, talents and skills on our campus," said Andrea Abrams, vice president for diversity, equity and inclusion. "It is especially wonderful how many students are invested in cultivating belonging and equity through the sessions they organize." 
This year, ODI promoted four signature events: The Harlan Renaissance: Stories of Black Life in Appalachian Coal Towns (with Dr. William Turner, Appalachian academic, author and consultant); Entrepreneurship in Appalachia: Stories of Success (a panel of business owners, led by Nellie Ellis '23 and CentreWorks Executive Director Andrea Margida); The Impact of History Writing: Becoming Aware of My Biases (led by President Milton Moreland); and a discussion with best-selling author Ijeoma Oluo. 
Oluo is the author of "So You Want to Talk About Race" and is the Humana Visiting Scholar Library Lecturer, funded through a gift from The Humana Foundation. 
Students played an important contributing role in the campus-wide initiative, with several leading or helping to sponsor workshops throughout the day. 
Brandon Clay '23 led a discussion on the world of queer cinema and said Building Bridges and Community Day has proven to be a source of support in his time at Centre. 
"I cherish the opportunities Centre has provided to share a part of my identity with my community and to feel their support," Clay said. "Building Bridges and Community Day continues to bring students together in the quest for empathy and building a community that cares for one another." 
First year Soleila Elliott Gonzalez was one of six Spanish 230 students who led a discussion titled "Bad Bunny: Breaking Down Language and Stereotypes." 
"It was really meaningful to me to have the opportunity to not only listen and learn from the stories of my peers and Centre faculty but to also have the chance to present as a first-year student," she said. "From what I experienced, I realized that Building Bridges and Community Day was created to offer a space for people to collaborate and truly listen about one another."