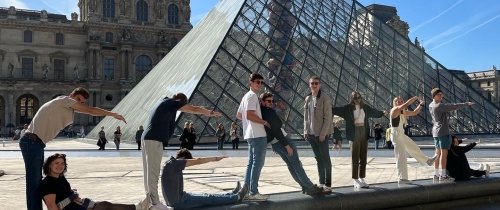 Centre-in-France takes studying abroad to new heights
Centre-in-France takes studying abroad to new heights
College courses have been brought to life in France for Centre College students studying abroad this semester in Strasbourg.
The Fall 2022 program, led by John Walkup Professor of Chemistry Jeff Fieberg, visited historical sites across central Europe, with a focus on sites impacted by France-Germany wars.
"This group of students has embraced every opportunity provided to them—they are a blast to teach," Fieberg said. "They are growing in so many ways—from living and cooking in apartments or homestays, to learning French, to planning and going on travel weekends around Europe. It was awesome to hear about their varied adventures on their first travel weekend to Interlaken, Switzerland, Bordeaux, France or Luxembourg.
"They'll be traveling all over to Europe on their upcoming travel weekends," he added, "exploring places like Barcelona, Amsterdam, Vienna, and Budapest. It's also cool to hear them discuss going to art museums, like the Van Gogh Museum when in Amsterdam."
Students have class Monday through Thursday, and they have designated "travel weekends" to take advantage of these longer weekends. But the courses have also expanded students' mindset.
Students visited the "Top of Europe," the highest train station in Europe, along with organized program trips to Heidelberg, Germany to see the Heidelberg Castle, the Heidelberg Thingstätte outdoor theater and a World War I battlefield in Verdun, France.
"We also visited the Meuse-Argonne American Cemetery, which is the largest cemetery of American military in Europe with 14,246 military dead," Fieberg said. "The students and I were moved at seeing how many Americans made the ultimate sacrifice on soil so far from home."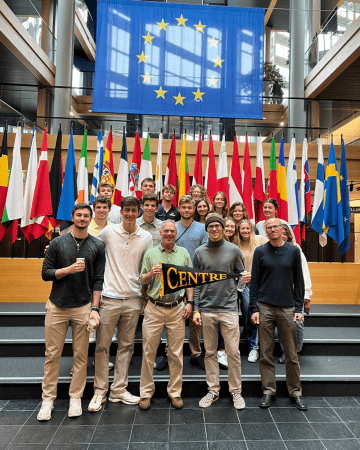 Art museum visits have been emphatic for the students as well, the professor explained. During the group's three-day visit to Paris, Fieberg guided students through the Louvre, Musée d'Orsay and Musée l'Orangerie—famous for Claude Monet's Water Lilies paintings.
"Students said that these art museum visits were the most meaningful of their lives, because they understood the art while seeing so many paintings from the Molecular Modernism: Manet to Marc course," Fieberg said. "They also enjoyed sketching their chosen painting for a project for the Molecular Modernism course."
Strasbourg is internationally recognized for its European institutions: The European Parliament, Council of Europe and European Court of Human Rights are all located in Strasbourg and are highlights of the study abroad course.
"I am extremely grateful Centre has provided me with this opportunity," said psychology major Hailey Watson '24. "Every day I wake up thankful. I don't think I would be able to do what I am without the support of Dr. Fieberg and the peers with me on this trip. The experience thus far has been extremely eye-opening and a helpful experience for me. I've met my best-friends here."
Fieberg recognized that Centre abroad is a highlight for students and faculty alike.
"I absolutely love facilitating these transformative study abroad experiences for Centre students," he concluded. "One of the special things about Centre College is that we send about 16 of our faculty around the globe each year to teach Centre students in sites that our faculty know as experts.
"The opportunities to direct the Centre-in-Strasbourg Program and teach CentreTerm travel courses in France are my most rewarding teaching experiences as a faculty member at Centre."
Learn more about the College's nation-leading study abroad program here, and follow the adventures of Centre students across the globe with #CentreAbroad on social media.