Centre ODI highlights 'living history' with groundbreaking Danville mayor
Centre ODI highlights 'living history' with groundbreaking Danville mayor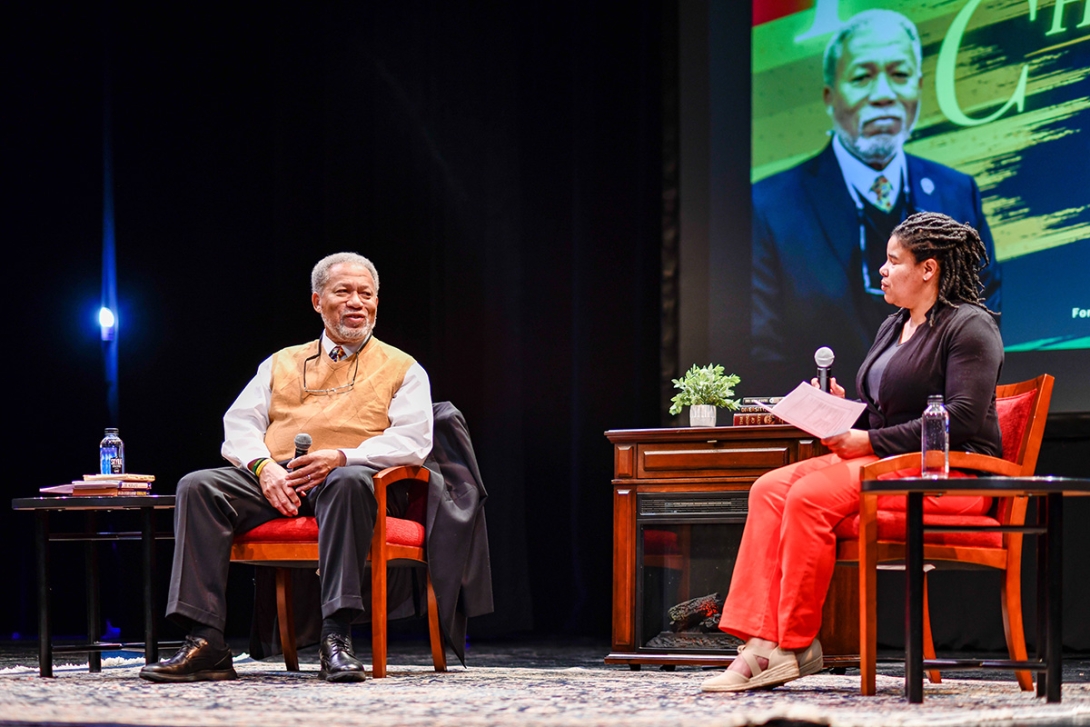 A crowd of students and community members gathered Monday at Centre College to hear J.H. Atkins speak, but his first words were not his own.
Atkins opened the "Fireside Chat: Standing on the Shoulders of Others" program with "I Too," a poem by Langston Hughes. The poem closes with the line, "I, too, am America."
In honor of Black History Month, Centre's Office of Diversity and Inclusion chose to focus on "living history," or trailblazers who are shaping the history books right now.
Enter Atkins, a former Centre staff member, and the first Black mayor of Danville, Kentucky.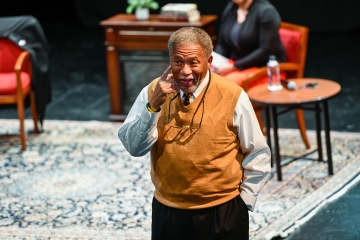 Jessica Chisley '04, assistant director for diversity and inclusion student programming at Centre, moderated the event. She said Atkins asked if he could introduce himself in a unique way — and the Hughes' poem did just that.
"It was exactly the type of vibe we hoped to establish for the evening," Chisley said.
Atkins and Chisley sat in armchairs on the Weisiger Theatre stage at the Norton Center for the Arts with a fireplace between them. The goal for the evening was warmth — like sitting in a living room, Chisley said.
The pair worked through a slideshow of Atkins' history — from high school to his time as assistant vice president for diversity at Centre. His conversation with students and community in attendance weaved through his story in four stages: segregation, integration, resegregation and disintegration.
"I've lived through (all of) those historical contexts in this country," Atkins said.
The message, however, remained the same: it's through content of character and perseverance that Atkins built his life of leadership.
"You introduced me as the first Black mayor of the city of Danville," Atkins told Chisley. "Well, that's great. I am a Black man. I'm also a highly qualified, highly skilled, highly trained male who is now the mayor of Danville, who happens to be Black. I was the first male teacher for many students. The first Black teacher for lots of people. And the first Black principal in the Danville school system after integration."
Speaking to the crowd, he added: "Everywhere you young people go, anything you want to do — you've got to take those credentials with you."
Chisley said the program title, "Standing on the Shoulders of Others" paid tribute to those who walked with Atkins and "inspired, supported, affirmed, challenged and uplifted him along the way."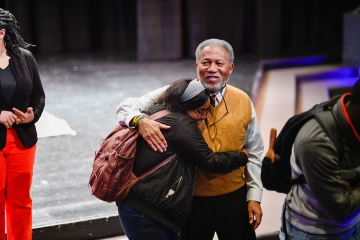 In the final Q&A portion of the program, Atkins took questions from the audience — and reminded the crowd that during times of trial and struggle, perseverance and a connection to those who came before matter.
"If you try and fail, you should always get back up," Atkins said. "If we allow individual moments to stop us completely, it will change the trajectory of where we're going … I've had moments of disappointment. But I'm from a generation where we don't stop, we keep on going. I stand on the shoulders of those who fought and gave their lives so I can stand on this stage and so you can be where you are today, so it should never be taken lightly."