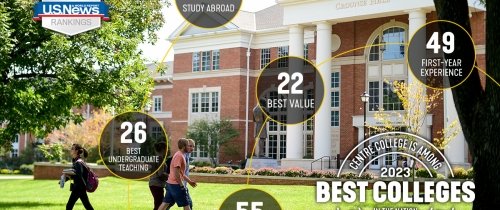 Centre ranked as top-30 college nationally in multiple U.S. News categories
Centre ranked as top-30 college nationally in multiple U.S. News categories
The U.S. News and World Report's prestigious collegiate rankings once again distinguish Centre College as one of the premier liberal arts and science schools in the country.
Centre was named #22 in the "Best Value" category, improving four spots from its rank last year. The College was also highlighted as #26 nationally in "Undergraduate Teaching" and #30 in "Study Abroad" experiences.
"We place priority on the student experience at Centre," President Milton Moreland said. "Rankings do not paint the whole picture of that Centre experience, but our high marks in national rankings indicate that talented young people find purposeful learning here."
The value of a Centre experience is expressed by the College's strong academics, career preparation and inclusive excellence. Centre provides students with study abroad opportunities, undergraduate research and internships, and community-based learning.
Beyond Centre, alumni demonstrate post-graduate success in meaningful careers, evidenced by an average 98 percent employed or in advanced study within a year of graduation.
Access to these opportunities is a focal point of the College's strategic plan, which places a strong emphasis on value and affordability for all students. Centre is among the most generous of any top national college, awarding $41 million-plus in scholarships and grants each year and with more than 90 percent of students receiving aid.
Further, scholarship initiatives that support underserved students "reinforce Centre's commitment to ensure educational access and achievement," explained Moreland. "This is demonstrated by the College's plan to increase the number of students who are Pell-eligible or ineligible for federal aid to 25 percent in the next five years."
Centre also remains committed to community wellbeing: the College's Initiative for Wellness and Athletic Excellence (IWAE) represents the largest capital project in the school's history and reflects Centre's focus on the holistic wellbeing of its students through state-of-the-art facilities.
"The wellbeing of our students has always been of utmost importance to the College," Moreland said. "IWAE and the support from our generous alumni and donors reflect just how passionate we as a college community are about student health."
In the Centre classroom, students enjoy a 10-to-1 student-to-faculty ratio, where faculty is committed to deep engagement, critical thinking and experiential learning.
In support of this, Centre faculty consistently earns recognition for their dedication to student success in and out of the classroom. Engaging scholarship and inclusive pedagogies are a hallmark of the Centre experience, along with small classes that foster the opportunity to build meaningful connections among students and faculty.
The College was also ranked among the best in the nation for "First-Year Experiences" (#49) and, overall, 55th among National Liberal Arts Colleges.