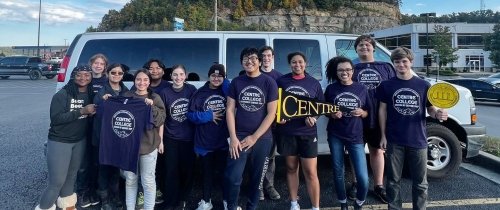 Centre students help in Eastern Kentucky during Alternative Fall Break
Centre students help in Eastern Kentucky during Alternative Fall Break
Students with the Office of Civic and Community Engagement (OCCE) took an alternative fall break to Eastern Kentucky, assisting a region ravaged by flooding earlier this year.
Fifteen Centre students volunteered for two separate day trips to Perry County, Kentucky to support a cleanup and restoration with the Housing Development Alliance. Students removed debris and cleaned a damaged riverside house.
Bonner Leader Emmy Greene '23 is on the planning committee for the event. A Sandy Hook, Kentucky native, she was motivated to serve and help her neighbors.
"Although my area in Eastern Kentucky was not directly impacted, we were all effected by the devastating effects that the historic floods had on our neighbors," Greene said. "I truly believe in the difference that community engagement can make, so when I had the opportunity to work with the Office of Civic and Community Engagement in planning an alternative fall break trip to Hazard, I was really excited to connect students with this part of Appalachia in a way that would be so impactful for both them and for those affected by the floods."
With funding from Kentucky Campus Connect, the students participated in a pre-service orientation to learn about Eastern Kentucky history—and through that orientation, Greene saw her fellow students gain empathy toward the communities there.