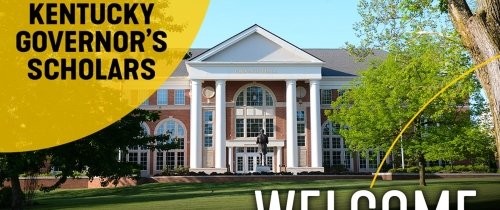 Centre welcomes newest GSP class with updated contract, scholarships
Centre welcomes newest GSP class with updated contract, scholarships
Centre College will welcome the 2022 class of the Kentucky Governor's Scholars Program (GSP) to campus June 19, now the 33rd year that Centre has hosted the five-week summer program for the state's brightest rising high school seniors.
The College and GSP have also agreed to partner three more years, through 2025.
"The Governor's Scholars Program and Centre College are natural partners," said Centre's GSP liaison, Sarah Scott. "Centre's dedication to academic excellence, strong community environment, and enrichment of intellectual curiosity, mirror the spirit of the program.  We are delighted to host bright young scholars from around the state and are excited that this relationship will continue for at least the next three years."
GSP Executive Director and Academic Dean Aris Cedeño agreed, noting the rich history between the College and the program.
"The Governor's Scholars Program was created in 1983 and the first summer was hosted by Centre College, an educational partnership that has proven to be a model of intellectual excellence," Cedeño said.
It is a partnership that provides benefits to everyone involved: The College provides fertile soil for 352 rising high-school seniors who will take part in a challenging non-traditional curriculum, one rooted in the liberal arts and sciences.
"Both institutions have a similar mission, but most importantly, they share an academic vision that personalizes the successful leadership trajectory of the Governor's Scholars and the successful professional trajectory of the Centre College graduates," Cedeño said.
Additionally, the College has expanded its policy for GSP alumni: an increased merit scholarship dubbed "The GSP Guarantee." GSP alumni will be awarded the highest merit scholarship of $30,000 ($120,000 over four years).
The Governor's Scholar Program matches Centre's brand promise: to provide a supportive community and a flexible, personal academic path to a meaningful life and career.
"After five weeks on campus, the Governor's Scholars will return to their Kentucky communities recharged and with a renewed interest in serving those communities, the state of Kentucky, the nation and beyond," Cedeño said. "The successful life trajectory has taken its healthy roots at Centre College."