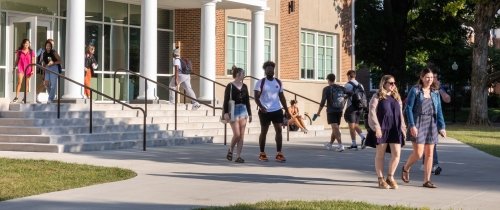 College announces new Front and Centre Scholarship
College announces new Front and Centre Scholarship
Centre College has announced a new boost to Early Decision applicants.
Early Decision applicants will receive a boost at Centre College thanks to a new scholarship offering recently announced by the College.
Accepted students who submit applications by the Early Decision deadline will automatically receive $5,000—a total of $20,000 across four years—without a special application needed.
"Early Decision is a wonderful option for students who have executed a detailed college search and come to the conclusion that Centre College is the place where they will best thrive and grow as scholars, leaders and engaged community members," said Pam Baughman, interim dean of admission and financial aid.
The newest form of financial aid at Centre will supplement most other merit scholarships, and showcases the College's commitment to students who are ready to put pen to paper early in the application process.
The deadline for applying Early Decision – Centre's binding application plan – is Nov. 15. Early Decision applicants receive admission results by Jan. 1, and students will receive information regarding general merit scholarships and financial aid by Jan. 15. Accepted students have until Feb. 1 to respond.
"There is no greater way for a student to express their desire to join the Centre community than submitting an Early Decision application to the College," Baughman said.
Learn more about the new Front and Centre scholarship and how it relates to premier and special scholarship offerings here, or contact the admission office to get more information about the Centre application process.