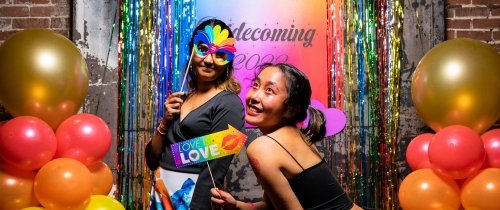 Diverse campus community highlighted through LGTBQ+ awareness events
Diverse campus community highlighted through LGTBQ+ awareness events
A series of collaborative and inclusive events were at the fore throughout the past month at Centre College.
October's LGBTQ+ History Month featured celebratory events like Coming Out Day and the College's Rainbow Ball in effort to provide awareness and inclusive support of a diverse campus community.
LGBTQ+ History Month events included a panel discussion titled "Cross-Cultural Perspectives of LGBTQ+ Communities and Experiences;" a discussion with college chaplain Jason Crosby '01 and Dr. Eric Mount, Nelson D. and Mary McDowell Rodes Professor Emeritus of Religion, on "Intersections of Faith and Sexuality;" and a session on "LGBTQ+ Healthcare and Resources." The offerings were a collaborative effort between the Queer Faculty & Staff (QFS+) Caucus, the Office of Diversity and Inclusion, Centre Pride Alliance and Centre Union for Affirming Christians. Executive Director of Development Doug Evans helped organize and facilitate the LGBTQ+ History Month conversations.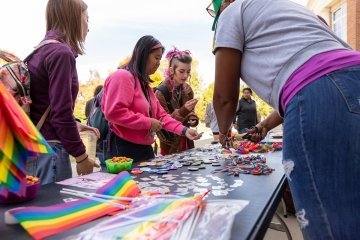 Events like these were accomplished through the leadership of QFS+ Caucus co-chairs Kristi Burch, academic technology specialist, and Associate Professor of Biology Amanda Falk, who noted these events give necessary visibility to the LGBTQ+ community on campus.
"Seeing the faces of students as they showed up to either grab some swag, get a hug or have a conversation or laugh with like-minded folx was both inspiring and heartwarming," Burch said.
Jennifer Vong '25 attended the Rainbow Ball—also referred to as the Pridecoming Ball—during Homecoming and said it was a great example of a supportive community.
"I really enjoyed the Pridecoming Ball, because I knew that it was going to be an event and space where I could be my true self around people who were like me in the LGBTQ+ community," Vong said. "My favorite part of the event was toward the end when everyone started singing and dancing, because we had so much energy.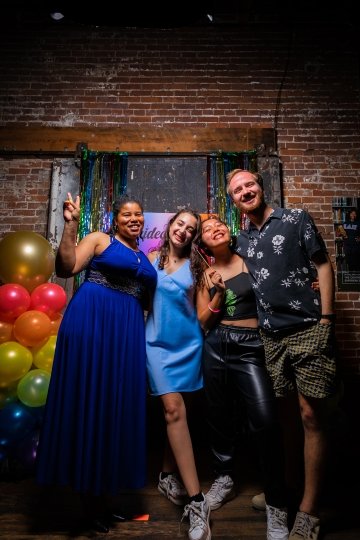 "It just made me happy to see people be comfortable and showing who they really are without having to hide."  
Robyn Tribolet '26 added that the Pridecoming ball was one of the best experiences she has had for any school sanctioned event, noting that events like this "build a community."
"Overall, it was an amazing experience that allowed so many people to be their amazing, unique selves without fear of other people's reactions."
Sam Cotthoff '26 agreed, though initially he wasn't sure what to expect during Pridecoming.
"What I found was a space full of fun and a newfound family," Cotthoff explained. "Seeing other people happy and feeling the energy and support of those around me filled my night with joy and hope for a more inclusive community at Centre."
College President Milton Moreland said it's student testimonials like these that are the motivation for collaborative, inclusive events on campus.
 "It takes an entire campus community to continue the College's focus on fostering inclusive excellence in our learning community," Moreland said. "I am thankful for the leadership we have in organizing these events and making all of our students feel welcomed and appreciated."