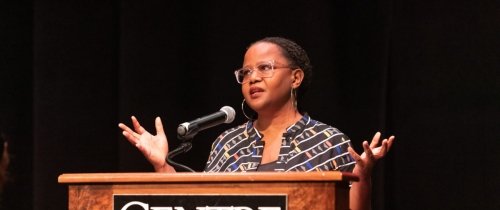 Edwidge Danticat inspires during Humana Visiting Library Lecture
Edwidge Danticat inspires during Humana Visiting Library Lecture
Centre College recently hosted Edwidge Danticat as its 2022 Humana Visiting Library Lecturer during a campus convocation on Sept. 27. A Haitian-American citizen, Danticat was the recipient of a MacArthur Fellowship in 2009 and has won national and international awards for her work as an author. Her writing focuses on themes of national identity and diasporic politics with topics involving power, injustice and poverty.
"Edwidge Danticat's insightful and moving depictions of Haiti's complex history enrich our understanding of the Haitian experience," said Carrie Frey, Director of Library Services at Centre. "Her works evoke themes of family, particularly the experience of women and children, as well as isolation, and community.
"While grounded in the Haitian experience, her work resonates with a wide swath of readers," she continued. "A focus on home and exile through depictions of human resistance and renewal showcases the sheer resilience of the human spirit when faced with tremendously difficult situations."
Danticat is a critically acclaimed author. Her contributions include "Claire of the Sea Light," a notable New York Times book; Her memoir, "Brother, I'm Dying," a National Book Critics Circle Award winner and National Book Award finalist; "Breath, Eyes, Memory," an Oprah Book Club selection; "Krik? Krak!," a National Book Award finalist; "The Farming of Bones," an American Book Award winner; "The Dew Breaker," a PEN/Faulkner Award finalist and winner of the inaugural Story Prize; and "Everything Inside," a Reese's Book Club pick and winner of the Story Prize. She has been published in The New Yorker and The New York Times, among other notable publications.
Chantell Limerick, associate professor of Spanish, and Azita Osanloo, associate professor of English, each had students involved in a classroom discussion with Danticat during her visit. It was an intimate conversation that Limerick said was incredibly positive.
"Students were very attentive and engaged, and Edwidge Danticat was warm, inviting and down to earth," Limerick said. "To me, she's a celebrity. It was such an honor and privilege to have her talk with us and students."
Limerick said Danticat's book, "The Farming of Bones," was particularly powerful for her: The introduction to Limerick's dissertation in 2016 discussed the Parsley massacre, which was a massacre of Haitian citizens carried out by a Dominican dictatorship in 1937. Danticat's book is a work of historical fiction on the same massacre.
"To be able to engage with someone of her caliber is, to me, a once-in-a-lifetime opportunity," Limerick said. "Her historical fiction served as a way to give voice to people whose voices we don't usually hear in the retelling of historical narratives. I received so much inspiration from her."