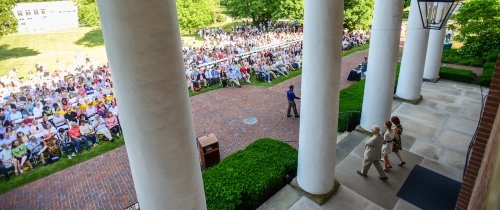 Honor Walk tradition turns 20 during 199th Commencement
Honor Walk tradition turns 20 during 199th Commencement
Members of the Centre College Class of 2022 gathered to honor the people who made a significant impact on their lives during the College's annual Honor Walk, Saturday, May 21, at 7 p.m. Now in its 20th year, the event has quickly become a cherished tradition of Centre Commencement weekend.
At the beginning of the fall semester, President Milton Moreland presented each member of the senior class with a "talent"—a coin with Old Centre on one side and the College seal on the other. The seniors have the entire academic year to decide to whom they will give their talent—be they family, friends, professors, coaches or classmates—the day before the Commencement ceremony.
Lane Cannon '22 shared her talent with Mark Rasmussen, Charles J. Luellen Professor of English.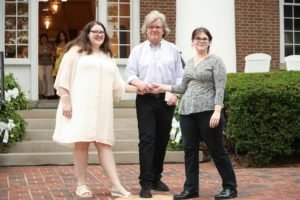 "I first had a class with Dr. Rasmussen as a first-year, and I believe we have had six classes together in total, including an independent study on translation," Cannon says. "I also got the chance to study abroad with him in Strasbourg, France. He has been such an important mentor for me all four years at Centre, and I am thrilled to have the chance to thank him for all his time and support."
Honor Walk takes place in Old Centre, where the seniors walk through the front door and through its foyer. After passing through the back door and down the steps, stopping in front of Centre's beloved seal, the seniors finally pass their talents on to those they choose to honor. Posse Scholar Adonis Logan '22 chose to honor Jami Powell, Centre's library systems specialist, who mentored the 2022 class of Posse Scholars during their four years at Centre.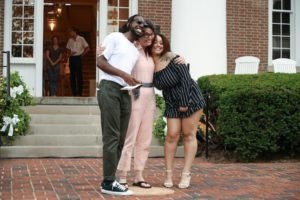 "Coming in from Boston as a first-year, Jami played the most crucial role of anyone on campus in helping me adjust to this community," Logan says. "Given that she is from Danville, I started to see the town through her eyes, and for that I am forever appreciative and grateful. I started to look at Danville as home rather than somewhere I'd be for four years."
Mackenzie Nichols '17, assistant director of annual giving and a coordinator of the event, explains that anyone who went to Centre knows that it's not just the degree that makes Centre so unique. "It's the community of friends, coaches, professors and mentors that are formed along the way that sets this institution apart.
"To top it off, the seal in front of Old Centre is such an iconic symbol of the College, it's hard to express the sentiments that this event holds," she continues. "It's truly an evening that the seniors and their honorees won't forget."