In the name: What Krudxs Cubensi brought to Centre as Humana Visiting Lecturer
In the name: What Krudxs Cubensi brought to Centre as Humana Visiting Lecturer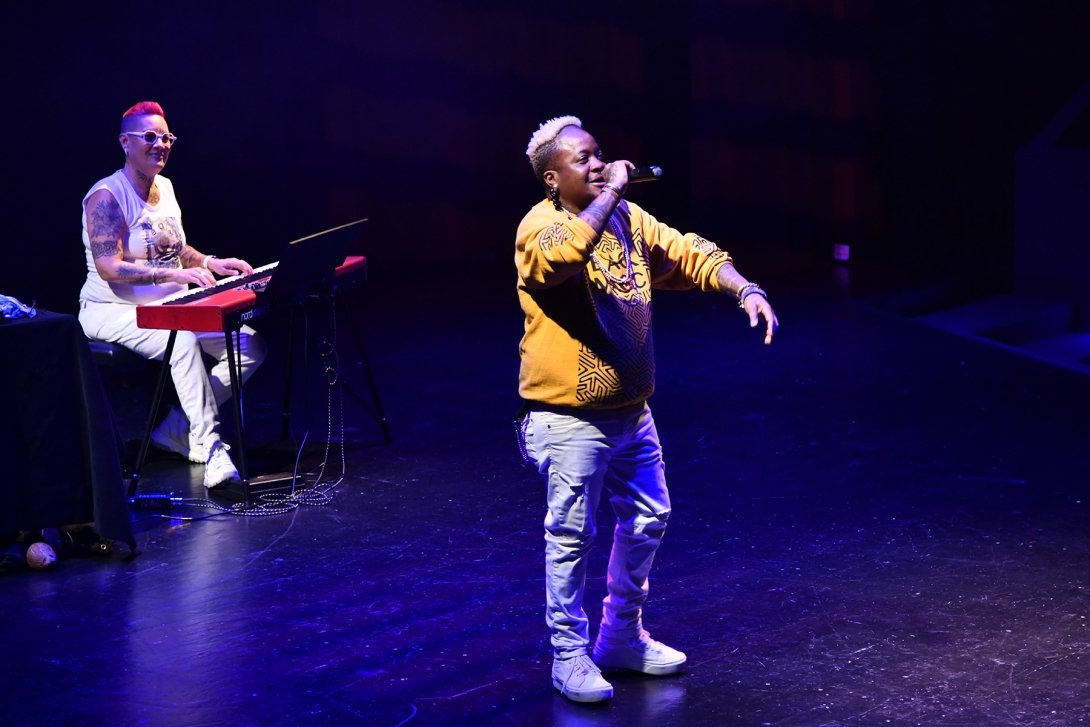 Odaymar and Oli form Krudxs Cubensi, a duo that blends art with activism, hip-hop with Afro-Cuban beats and powerful inclusive messaging.
It's in the name: Krudxs Cubensi.
Odaymar and Oli make up the "artivist" duo from Cuba, who define their work as krudxs, or simply, "raw."
The duo's Humana Visiting Lecture in Centre College's Weisiger Theatre exemplified that ethos, as the concert mixed Afro-Cuban beats with hip-hop style and powerful inclusive messaging.
"Their art seeks to push us to challenge and question the binary, the normative," said event organizer Lorena Bonet Velazquez, Class of 2023. "Their music is liberating, that's the message and energy they bring. It may be in a different language, but people still felt that it was powerful. You don't need to know a language to understand the message, the feeling. Their message transcends borders, language barriers, etc."
Bonet Velazquez and Associate Professor of Spanish Satty Flaherty-Echeverría worked on bringing Krudxs Cubensi to campus as part of Bonet Velazquez' J.H. Atkins scholarship and in conjunction with the Humana Visiting Lecture series. As an Atkins Scholar and under the mentorship of Flaherty-Echeverría, Bonet Velazquez is working to create more inclusive and equitable programming.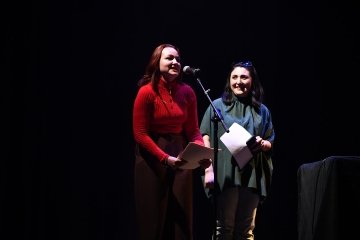 Bonet Velazquez and Flaherty-Echeverría also worked with campus organizations, including the Office of Diversity and Inclusion, Latine Club, Black Student Organization and Centre Pride Alliance.
"These artists are representing the issues and people that these organizations stand for," Bonet Velazquez said. "Working with existing student groups who care and are impacted by the social issues they speak on was an important and necessary collaboration."
Students and community members packed Weisiger Theatre for the performance and danced on-stage with Krudxs Cubensi, whose message is one that has been in production since the group formed in 1999.
Flaherty-Echeverria was motivated by feedback she received from previous guest activists visiting Centre. Afro-Mexican artists Alan Peláez López and Daniela López Carreto (invited by professor Chantell Limerick) each gave convocations in the fall.
"I saw the feeling of students, they were just in awe," Flaherty-Echeverría said. "I received a lot of affirmative comments and feedback from students, and my colleagues and I wanted to continue to do that. Lorena and I spoke with Krudxs Cubensi, read scholarship about their work and wanted to bring their work here … We wanted students to be exposed to this art, bringing multiple ways of being and experiencing life, it's important."
Bonet Velazquez and Flaherty-Echeverría were helped by the Norton Center for the Arts Executive Director Steve Hoffman, who gave tips on how to connect and interact with the artists. Bonet Velazquez, a child of Cuban immigrants, spoke to Krudxs Cubensi almost exclusively in Spanish and said that those interactions were a learning process for her but incredibly positive.
"To see them perform their art here, that has been impactful for me, and I think other students as well," she said. "Seeing yourself represented in who they are and the work that they do, there's a need for that."
Bonet Velazquez also recognized that it wasn't your typical "lecture," although Krudxs Cubensi did visit classes and held workshops during their time at Centre.
"When it comes to convocations, we can have more diversity in the way the message is communicated and transmitted to students," she said. "This concert might engage certain students in a way other convocations might not get the same message across. It's important that we invest in the arts, especially those that center the contributions and experiences of those most marginalized."
Krudxs Cubensi's performance incorporated many messages, from their activism in the late 1990s in Cuba, immigrating to the United States, queer rights, reproductive justice, community-care, veganism and more.
"They're mixing so many things with their art, and it's really them. Raw. Raw in many ways," Bonet Velazquez said. 
The Humana Visiting Lecture program was funded through a gift to Centre from the Humana Foundation, a philanthropic branch of Louisville-based healthcare corporation Humana Inc.