Patrick Martin '86 returns to Centre to lead hot glass program
Patrick Martin '86 returns to Centre to lead hot glass program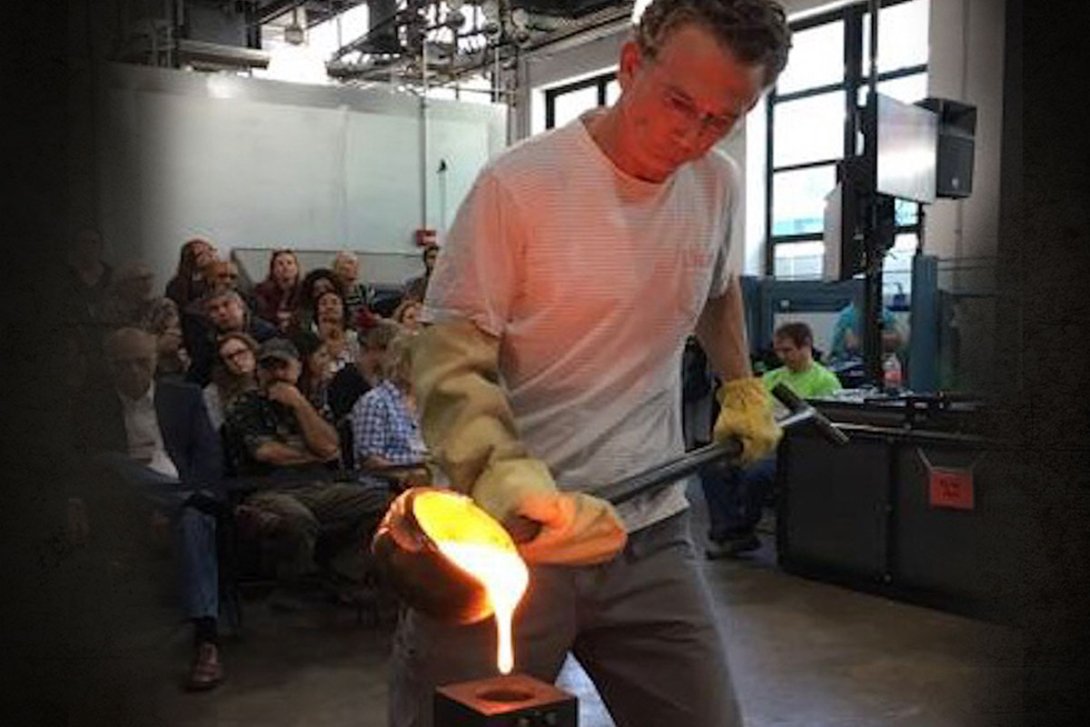 Patrick Martin took his first ceramics class with Stephen Rolfe Powell '74, world-renowned glass artist and long-time professor of art at Centre College, in 1983.
Now, nearly 39 years later, Martin will follow in the footsteps of his late mentor, returning to the College to lead the hot glass program.
Martin, a 1986 Centre graduate, has taught at Emporia State University since 1999. In 2017, he earned the Roe R. Cross Distinguished Professor Award at Emporia State for his dedication to the glass-forming program and preparing his students for professions after graduation.
"I hope to continue to provide out-of-classroom experiences and exposure to professional artists in order to increase post-graduate opportunities for Centre students," he explained.
Emporia State University highlighted his students' post-graduate work at the Tacoma Museum of Glass Studio, Pilchuck Glass School, Corning Museum of Glass Studio, Pittsburgh Glass Center, and many more who are independent artists.
Ellen Goldey, Centre's Vice President for Academic Affairs and Dean of the College, said that Martin is well known for his commitment to teaching.
"Patrick Martin is an established and respected artist and award-winning professor, and we are thrilled he is coming home to Centre College, where as a student he was inspired by Stephen Powell," Goldey said. "Patrick is also well known for his collegiality, commitment to the liberal arts and work with the broader community. I know he will hit the ground running.
"As noted by one of Patrick's former colleagues, 'the success of his glass program is a direct result of his dedication to his students, passion for teaching, knowledge of the discipline and involvement in the glass community at a national level,'" she added.
Martin has taught glass workshops from the Pilchuck Glass School to the Unitec Institute of Technology in Auckland, New Zealand. He said his work is inspired and influenced by socio-political themes, ideas and trends.
"My interest in history that developed at Centre plays a significant role in the development of concepts and ideas that lay the foundation for the creation of the visual forms," he said.
During his time at Centre, Martin said Powell was more than just a teacher. Martin was his student and student technician when Powell began the development and fabrication of a hot glass studio.
"He was a teacher, mentor and friend for over thirty years and definitely had a very significant impact on me as a person, artist and teacher," Martin said. "It was a great learning experience for me to see how he went about creating, building and developing the glass program from scratch. I learned many lessons from that time that I still use today."
Martin is certainly part of Powell's legacy, as well as the other Centre students and faculty he shared time with while at the College. Centre will honor Powell this fall with a Homecoming Weekend reveal of a sculpture garden and outdoor classroom on campus. The Stephen Rolfe Powell '74 Memorial Sculpture Garden is being made possible by the philanthropic support of Powell's friends and former students.
An exhibition honoring Powell's life and art will also be hosted by the Arts Center of the Bluegrass in downtown Danville throughout Fall 2022.
"I think his legacy will be considered outstanding," Martin said of Powell. "He created a program from scratch that grew into a nationally known undergraduate glass program that has produced numerous successful glass artists and educators. His own work and success were inspiration for all Centre students.
"He was a great example of following your passion and giving hard work and effort in order to achieve your goals, no matter what career you were pursuing."
Glass art photography credit: Shawn Honea