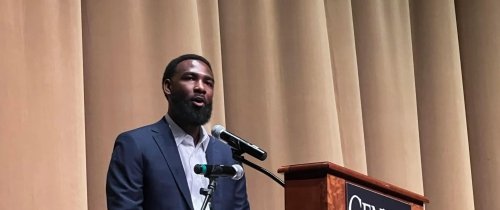 Service, community the focus of Centre students on MLK Day
Service, community the focus of Centre students on MLK Day
Members from all parts of Centre College's community engaged in events celebrating Martin Luther King, Jr. Day on Monday as the College honored the civil rights leader.
Students, faculty, staff and alumni participated in commemorative events throughout the day — from service opportunities at local non-profits, to a march and community celebration in downtown Danville. The day culminated with the College's annual MLK Convocation at the Norton Center for the Arts, featuring keynote speaker Dexter Horne '16.
Service opportunities included volunteering at Camp Horsin' Around, Central Kentucky Wildlife Refuge, Hooves of Hope, New Hope Food Pantry and Shaker Village of Pleasant Hill.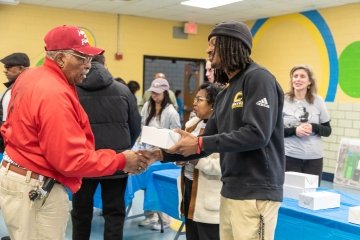 "At the heart of the MLK Day of Service is connection," said Jessica Chisley, assistant director of diversity, equity and inclusion programming. "Through connection, we may start to tap into our shared humanity. Service provides an opportunity to tend to a community and its needs as well as uplift the person next to us. To stand with the person next to us and try to see things from another's perspective. The fact that Centre prioritizes this day by canceling classes and closing the College to afford faculty, staff and students an opportunity to engage in volunteer service is incredible! Centre does not exist in a vacuum, but is part of a broader community. A community we should always help to replenish."
Monday evening, the Office of Diversity, Equity and Inclusion hosted Horne and community members at the Norton Center. Horne's speech, titled "It Starts With Me: Cultivating A Beloved Community Mindset to Transform Unjust Systems," invited members of the audience to reflect inwardly to help affect outward change in their communities. Horne is a senior policy analyst at The Council of State Governments.
"We are truly grateful for our partnership with the Office of Civic Engagement and the Bonner Program, who always do an incredible job of researching, identifying and organizing volunteer opportunities within the Danville/Boyle County community on this special day," Chisley said. "We are grateful to everyone who joined us in the beautiful Norton Center for the Arts to help celebrate and uplift the life, legacy and work of the late Rev. Dr. Martin Luther King, Jr."
Horne outlined three ideas in his speech: The importance of a community mindset in attempts to transform an unjust system; the talents of a diverse and redemptive community; and that successful change-making doesn't require greatness—it requires cultivating a beloved community mindset. [Read Horne's full speech here]
"Service provides an opportunity for students to be able to learn about community needs while working alongside community partners to help achieve social change," said Sidney Saxen, coordinator of civic and community engagement and the Bonner Program.
---
At top: Dexter Horne '16 spoke at the College's annual MLK Day convocation at the Norton Center for the Arts. Photo by Cole Henson.