Smith's activism, development at Centre led to prestigious John Lewis Fellowship
Smith's activism, development at Centre led to prestigious John Lewis Fellowship
Imani Smith '23 has been selected as the second Centre College student of the John R. Lewis Scholar and Fellows Program.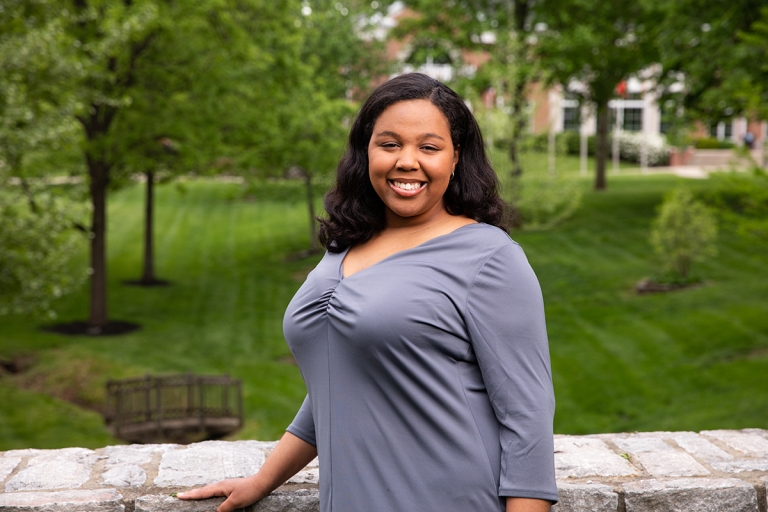 Smith joins Jason Wong '24 from last year's inaugural cohort as the only two Centre students selected for the program, which targets students who follow Kingian principles of nonviolence and apply it to modern times and movements.
"Both Jason and Imani have already established themselves as not only accomplished students but also as future civic leaders with visions for a better tomorrow," said Robert Schalkoff, Director of the Office of Fellowships. "It's clear that they are the type of servant leaders Centre prides itself on developing and, in the case of the John R. Lewis Scholars and Fellows program, the type of undergraduates the fellowship sees as benefitting from the applied learning program it provides to engage with the nonviolent social impact philosophy that grounded the fellowship's namesake, John Lewis."
The John R. Lewis Scholar and Fellows Program, established by The Faith and Politics Institute, has built prestige across the country since its inception last year. Smith will have two trips to Washington, D.C. to connect with representatives from all levels of governments, along with businesses and nonprofits who engage in social impact work.
Smith, a politics major and international studies minor, said that Dr. Schalkoff and others at Centre helped her prepare for the application process. She has also been active in the Louisville community, engaged as an organizer of what would become the Youth Resistance Collective in her hometown.
"My previous activism work in Louisville led me to truly appreciate this program's objectives—fostering conscious leadership through community and the Kingian principles of the Beloved Community," she said. "I came to know of the FPI John R. Lewis Program through the Office for Fellowships and Dr. Schalkoff. From there, I received extensive guidance on the application process and even had mock interviews with Centre personnel."
Smith said her experience at the College motivated her to engage with community and apply for the fellowship.
"While at Centre, I have had professors who not only challenged me but empowered my thinking about the world," she said. "By showing me that my perspective was valid and pointing to theories and academics who studied my interests, I have been able to cultivate a praxis for myself and my community, even now, becoming the first Black woman SGA President at Centre College."
Schalkoff said Smith will join the only competitive national fellowship devoted to the study of nonviolent philosophy and the creation of positive societal change through that philosophy.
"The fellowship attracts highly motivated and talented undergraduate and graduate students who are already on the road to becoming effective change makers at the civic level," he said.
Smith is eager to gain more real-world experience in the program.
"I am most excited about building community with others who are invested in the moral fabric of society," she said. "Whether they are from activist or academic backgrounds, I want to see how people use their experiences and values to build up accountable, equitable communities."