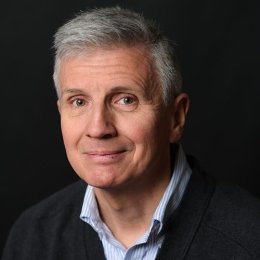 James V. Morrison
H.W. Stodghill, Jr. and Adele H. Stodghill Professor of Classics
Chair of Classical Studies Program
Chair of Linguistics Program
Offices & Programs
Expertise
Classics — Homer and the Iliad; Research interests include Homer and ancient epic, Greek literature and philosophy, Late Republican and Augustan literature and history, and classical tradition in 20th century literature and culture; Author of "Homeric Misdirection: False Predictions in the Iliad (University of Michigan Press 1992)" and numerous other articles and reviews for academic journals, including "Latomus, Journal of American Culture, and Religious Studies Review."
Biography
James V. Morrison is the Stodghill Professor of Classics at Centre. He received his B.A. from Oberlin College (1979), M.A. from the University of Washington (1984), and his Ph.D. from the University of Michigan (1988). He teaches Greek and Latin language and literature, courses in ancient history, mythology, comedy and satire, Indo-European Linguistics and Poetic Traditions, and the first-year humanities sequence. He has led student trips to Greece (2000, 2011) and to Italy (2003).
He is the author of "Homeric Misdirection: False Predictions in the Iliad (1992)," "A Companion to Homer's Odyssey(2003)," "Reading Thucydides (2006)," and "Shipwrecked: Disaster and Transformation in Homer, Shakespeare, Defoe, and the Modern World(2014)," as well as articles on Ovid, the New Testament, and Caribbean Literature. His current project explores ancient and modern comedy and satire.