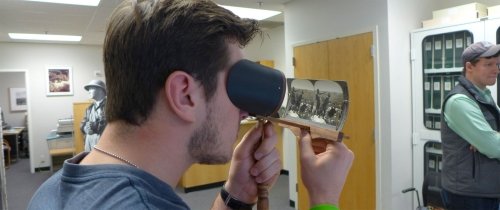 The History Program trains students in analytical writing, helps them learn how to organize and utilize various kinds of evidence, and provides perspectives that enable a better understanding of human behavior and cultural difference.
Overview
The history program's fundamental purpose is to encourage an understanding and, through research, an application of historical consciousness—that is, "the coherent organization of experience in historical time;" a just appreciation of the interrelationship of past, present, and future; and the knowledge that social change in this context is inevitable.
The History Program offers survey courses in world and American history, and a variety of specialized courses in American, European, and non-Western history. Except for seminars reserved for majors, all history courses are open to the student body at large. Even advanced courses host a large number of students who are there just because they like to learn about history. Bringing together students from a variety of academic majors, discussions in these classes offer a diversity of viewpoints.
Your Major Took You Where?
History majors have gone on to a variety of graduate programs and careers.
Employers
Frazier History Museum
Konica Minolta Business Solutions U.S.A., Inc.
Miamisburg City Schools
Minoh City Board of Education
Xerox Corporation
Postgraduate Study
Emory University (M.Div.)
The Ohio State University (J.D., law)
University of Kentucky (M.F.T., counseling)
University of Memphis (M.A., modern European history)
Valparaiso Law School (J.D., law)
Curriculum
History majors lay the foundation for their work by taking world and American history survey courses as first-year students and sophomores. Later courses include African, American, Asian, European, Latin American, and Middle Eastern history. History faculty also offer several thematic courses that cross these regional boundaries. Upperclass students often complete an independent study under the guidance of a professor. All majors also take the research seminar, which allows them to write a major research paper on a topic of their choice while learning historiography (the principles of historical research) and professional historians' tools of the trade.