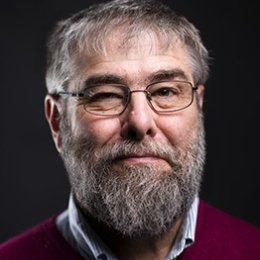 William (Beau) Weston
Van Winkle Professor of Sociology
Chair of Social Justice
Pre-Social Work Advisor
Offices & Programs
Education
BA Swarthmore College
MAR in Social Ethics, Yale Divinity School 
MA, MPhil & PhD in Sociology, Yale University 
BIOGRAPHY
Beau Weston joined the faculty at Centre College in 1990 and was named Van Winkle Professor of Sociology in 2008.  
He is an energetic and active teacher, known for getting involved in the lives and activities of his students on campus. He helped found the Anthropology and Sociology program, chairs the Social Justice minor, and is the first Social Work Advisor.  He is also an advisor to the service organization Alpha Phi Omega, and has been an advisor to the Badminton Club since the '90s. 
Born in Plymouth Meeting, Pennsylvania, Weston earned a B.A. with high honors from Swarthmore College and subsequently completed a M.A.R. from Yale Divinity School and M.A., M. Phil., and Ph.D. degrees at Yale University. Prior to coming to Centre, Weston served for three years as a research associate in the Office of Research of the U.S. Department of Education. 
Weston has an enduring interest in the sociology of family life, from his first book, Education and the American Family: A Synthesis of Research (1989, New York University Press) to his current project, The Married Class: Family Structure and the New Class Division in America.  
Weston received considerable press attention for his course on coffee houses.  From this grew a study of the kind of neighborhoods where independent coffeehouses are most common – and the kind of people who prefer to live near them – in Louisville, Between Bohemia and Suburbia: Boburbia in the U.S.A. (2019, Routledge).  
His history of the College, Centre College: Scholars, Gentlemen, Christians, won a Kentucky history award in 2010; it was updated as Centre College: A Bicentennial History in 2019.  
Weston's sustained research on the sociology of the Presbyterian Church resulted in Presbyterian Pluralism: Competition in a Protestant House (1997, University of Tennessee Press), Leading from the Center: Strengthening the Pillars of the Church (2003, Geneva Press), and editor of Called to Teach: The Presbyterian Mission in Higher Education (2003, Geneva Press).  
In 2011 Weston was awarded a National Endowment for the Humanities grant to develop a course on "The Happy Society." In 2004, he won the Kirk Award for Excellence in Teaching. In 2014 he again won the Kirk Award, as well as the David Hughes (Professor of the Year) Award from the student leadership fraternity Omicron Delta Kappa, and the Professor of the Year Award from the Delta Delta Delta sorority. 
Weston has presented papers at a number of professional meetings and has participated in the Kentucky Humanities Council speakers bureau. He has received honors including membership in Phi Beta Kappa, and he served a term as president of the Anthropologists and Sociologists of Kentucky. He is a member of the American Sociological Association sections on Family; Religion; and Altruism, Morality, and Social Solidarity. 
Weston is an elder in the Presbyterian Church. He and his wife, Susan, have three children: Molly, Nora, and Rebecca.