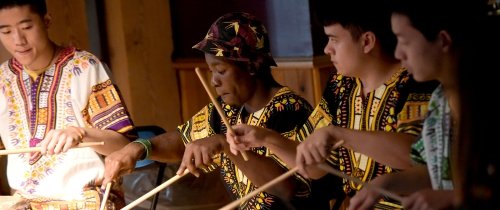 African & African American Studies
African & African American Studies
The interdisciplinary minor is global in scope — exploring the histories and experiences of communities of African and African descent throughout the world, including the African continent, Afro-Latin American and Caribbean world, Indian Ocean world, and the United States.
Overview
Our program draws from expertise in the fields of anthropology, gender studies, history, language and literature, music and the performing arts, international studies, and sociology. In doing so, we address critical questions concerning cultural and intellectual production, gender, race, ethnicity, diversity, empowerment, global justice, and systemic violence.
The minor equips students to think critically about our intimately interconnected world. Students will develop the necessary skills to convey and articulate the conditions and experiences of African societies and communities of the African Diaspora into spaces that include business and law, policy, performance, research, public discourse.
Curriculum
To complete the minor, students must take six courses: five designated courses on African and African Studies—2 or 3 on continental Africa and 2 or 3 on Africa America and the African Diaspora—and AAS 500 Colloquium.