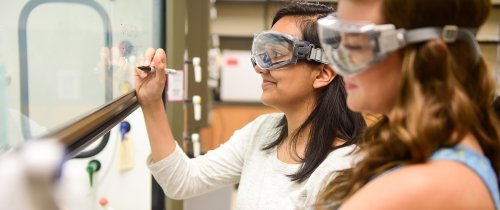 Biochemistry & Molecular Biology
Biochemistry & Molecular Biology
Centre's program in biochemistry and molecular biology (BMB) is designed to provide a solid introduction to the cellular and molecular fundamentals of life.
Overview
The BMB program meets the needs of a variety of students: those who want to pursue biochemistry, cell biology, and/or molecular genetics in graduate school, those who want to pursue a career in the health professions (dentistry, medicine, pharmacy, veterinary medicine, or allied health fields), and those biology, chemistry, or physics students who want to broaden and complement their course of studies.
Our BMB labs feature state-of-the-art instruments including an image analysis system consisting of a Zeiss fluorescence microscope equipped with a digital camera connected to a computer, cryostat, cell culture facilities (laminar flow hood, tissue culture incubator, inverted phase-contrast microscopes), computerized spectrophotometer, numerous electrophoresis apparatuses, equipment for recombinant DNA work, ultrasonicator, a liquid scintillation counter, ultrafreezer, lyophilizer, cold room, superspeed and ultracentrifuges, high-performance liquid chromatograph and fraction collectors, as well as additional routine laboratory equipment.
Your Major Took You Where?
BMB majors have gone on to a variety of graduate programs and careers.
Employers
Advanced Genome Technology
Blue Pearl Veterinary Partners
Central DuPage Hospital
Fulbright Scholar Program
Sanders-Brown Center for Aging
Postgraduate Study
Belmont University
Duke University
Johns Hopkins University
University of North Carolina
Vanderbilt University School of Medicine
Curriculum
The BMB major begins in the first-year/sophomore years with a solid foundation in biology, chemistry, mathematics, and physics. In the junior and senior years, students progress from macromolecules to cellular metabolism to molecular genetics to cell biology. At the same time, these junior-senior courses introduce the student to most of the major experimental tools that are critical to this molecular understanding of life. Finally, students are exposed to a wide spectrum of research currently underway in the field, partly through their senior seminar, and partly through research participation.