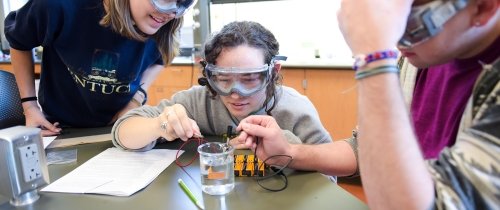 The chemistry program prepares students for grad school in chemistry, health professions, and those seeking strong analytical and technical skills for fields such as pharmaceuticals.
Overview
The chemistry program seeks to provide students with an understanding of chemical principles that enable them to solve routine or unusual problems in the areas of analytical, inorganic, organic, and physical chemistry. Students also gain basic laboratory skills and the ability to select and utilize appropriate instrumentation to solve specified investigative problems. Students are expected to demonstrate skill at analyzing and communicating scientific concepts and experimental results as well as designing and conducting original investigations in chemistry.
Centre offers three degree options: (1) the basic chemistry major, (2) the major with American Chemical Society certification, and (3) the major with emphasis in biochemistry and the American Chemical Society certification. Possession of an ACS-certified degree means that upon graduation the student is immediately eligible for membership in the American Chemical Society. Those pursuing the ACS-certified degrees are strongly encouraged to carry out independent research under the direction of chemistry faculty (CHE 405).
Your Major Took You Where?
Chemistry majors have gone on to a variety of graduate programs and careers.
Employers
National Cancer Institute
Cal Laboratory
National Institute of Standards & Technology
Celanese Corporation
Pearson Education Publishing
Postgraduate Study
Georgia Institute of Technology
University of Kentucky
University of Louisville
University of Southern California
Wake Forest University
Curriculum
Three chemistry degree options are available at Centre. In addition to the basic chemistry major, two additional options are certified by the American Chemical Society (ACS): a degree with emphasis in chemistry, and one with emphasis in biochemistry. Each requires additional courses and collaborative research to reach a specified total of lecture and laboratory hours. Students completing these degrees are eligible for membership in the ACS immediately upon graduation.