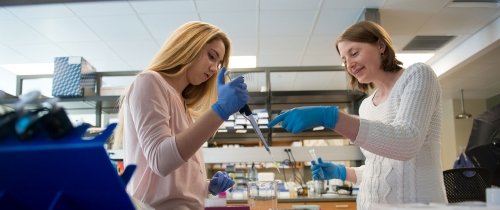 Centre graduates are accepted into the top medical schools in the country. Recent first-time applicants achieved an 84% acceptance rate, among the highest in the nation.
Overview
A Centre education gives you skills in analysis, critical thinking, and oral and written communication — abilities that enable you to get into leading med schools, do well in your professional studies, and establish a successful medical career.
Centre provides for-credit internships in medical and other science-related settings. Through strategic partnership with Danville's Ephraim McDowell Regional Medical Center, students participating in the Centre Unites with Ephraim (CUE) program gain first-hand experience in the medical environment.
Centre students have many opportunities to do joint research with faculty members. Students often co-author papers for publication with their professors and later present their work at professional meetings. These publication credits and professional experiences help in gaining admission to med schools.
In the second semester of their sophomore year, students may apply for the Early Assurance Program (EAP). Centre's partnership with the University of Kentucky College of Medicine-Northern Kentucky Campus provides early assurance of admission for selected students who complete the program requirements and graduate from Centre.
Prospective high school students and current Centre College students interested in a career in the medical field, please visit the Health Professions Advising website.

What Prospective Students Should Know
What Classes Do I Need?
Curriculum
There is no specific undergrad major required to be admitted to medical school. A number of our recent students have gone to med school after majoring in areas such as economics & finance, English, philosophy, religion, and Spanish, in addition to the traditional sciences of behavioral neuroscience, biochemistry and molecular biology, biology, and chemistry.