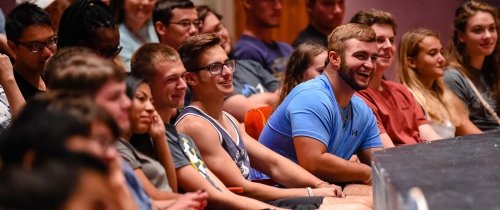 New Student Orientation
Congratulations and welcome to Centre!
We can't wait to see you on campus. Use this page to learn more about what you need to do over the summer to prepare to start at Centre in August. 
Email
Incoming students are assigned a Centre email address. Please use that address to access CentreNet (the College intranet for students, faculty, and staff). You may access email, billing, and important information about orientation both before and after you arrive on campus. 
Set your Centre email on your  iPhone  or  Android.
This is how we will communicate with you from now on so get used to checking from time to time. 
Over the Summer 
Below is a brief list of what students will learn about or need to complete over the summer. 
Course Selection, Registration, Advising, and Placement Testing 
Housing and room assignments will be emailed to students 
New students are provided with the orientation schedule 
Parents are provided with the parent orientation schedule 
Students will submit their vaccination records to Health Services 
Students will provide Health History and Special Need Request forms 
Computer/hardware recommendations and discounts available for software will be provided 
Students can find their Centre Post Office Box on their CentreNet page 
Summer Orientation Dates Coming this Spring
New Student Orientation Schedule 
Orientation is a way for students to meet other students, become familiar with campus services, and register for fall classes. The fall 2023 Centre College new student orientation will be Wednesday, August 23, 2023.
When You Arrive 
First Year Mentor: Students will be introduced to their First Year Mentor (FYM) and have most likely already had contact from them during the summer. 
Student I.D.: Students will get their photo I.D. made in the Student Life Office. The I.D. allows students access to residence halls, the library, meals, athletic events, Convos, and other Centre related activities and events. 
Vehicle Registration: Students will register their vehicles online through CentreNet and get a parking decal from the Centre Public Safety Office.