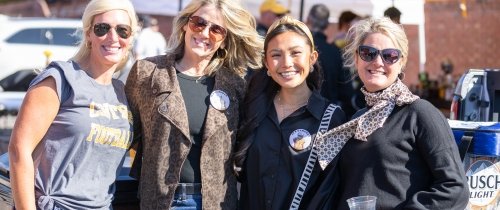 Campus gears up for Homecoming Weekend 2022
Campus gears up for Homecoming Weekend 2022
See the full schedule of events for Homecoming 2022
Homecoming 2022 will offer a monumental weekend at Centre College, welcoming hundreds of alumni back to campus, Oct. 14-16. The College will host two ceremonies dedicating new campus landmarks during the weekend: the clocktower and the Stephen Rolfe Powell Memorial Sculpture Garden and Outdoor Classroom. Reunion parties for classes ending in 2's and 7's will be celebrated as well.

"Homecoming at Centre is the best," said Megan Milby, director of alumni and family engagement. "People are so excited to see old friends and connect with professors, as well as just enjoy being on campus with beautiful fall Kentucky weather. It's going to be great, it's my favorite event every year."

Milby calls the clocktower "Centre's newest landmark" because of its high visibility across campus. It will connect the academic and historical portion of campus to the athletic side, which features Centre's new Initiative for Wellness and Athletic Excellence (IWAE).
The Stephen Powell Memorial dedication will be the largest event of the weekend, Milby said. It will take place at 4:30 p.m. on the Norton Center for the Arts' lawn.

"The Stephen Rolfe Powell memorial garden is such a beautiful space on campus, and it's an opportunity to pay tribute and honor his legacy," Milby said. "We're really looking forward to hosting hundreds of alumni, along with Steve's family and friends. It's not only memorializing the start of hot glass at Centre College, it will be a place people can go to remember his time here, what he meant to the College and what he still means to the Centre community."

Centre will play its first football game on the newly renovated Joe McDaniel Field on Saturday, hosting SAA opponent Berry College at 1 p.m. Due to IWAE construction, parking on campus is limited, and the College will relocate tailgating festivities to West Walnut Street. This designated location will be blocked off and will play host to the "majors" and "athletics" tailgating tents, along with the second-annual African American Alumni and Friends tailgate. Three food trucks and a beer truck from West Sixth Brewing will be on site from 11 a.m. to 3 p.m. on Saturday. Featured entertainment will include a performance by local musician Mike Archer, and there will be a bounce house for children on Crounse Hall Lawn.
At 5 p.m. on Saturday, all are welcome to the inaugural PrideComing Dinner and Rainbow Ball at Combs Warehouse. There will be $5 admission at the door to "kick off your shoes, enjoy good food, great music and company in an atmosphere where all are welcome, and you can be your authentic self."
Reunion parties for classes ending in 2's and 7's will take place at venues throughout Danville's downtown from 6 p.m. to 9 p.m. on Saturday. Advanced registration is required.

On Sunday, the College will host Centre Day at Keeneland in Lexington. Tickets in the Phoenix Room are still available – contact the alumni office for more information.
Several athletic events will also take place on campus on Sunday, including volleyball, women's soccer and men's soccer matches. The women's soccer team will honor 2021-22 SAA Woman of the Year Cameron Zak '21 at halftime of its contest with Birmingham Southern at Amend Field.
For more information or to register for Homecoming Weekend 2022, visit: http://alumni.centre.edu/hc22.