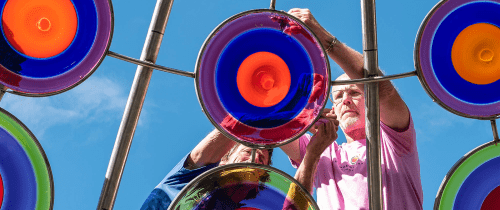 Centre College honors renowned glass artist Stephen Rolfe Powell '74 with 'larger-than-life' campus memorial
Centre College honors renowned glass artist Stephen Rolfe Powell '74 with 'larger-than-life' campus memorial
The Stephen R. Powell Memorial Garden and Outdoor Classroom was dedicated on Centre's campus during homecoming on October 15. The initiative is spearheaded by Powell's former student and protégé Brook Forrest White, Jr. '91, who was inspired to honor his late mentor with a "larger-than-life tribute."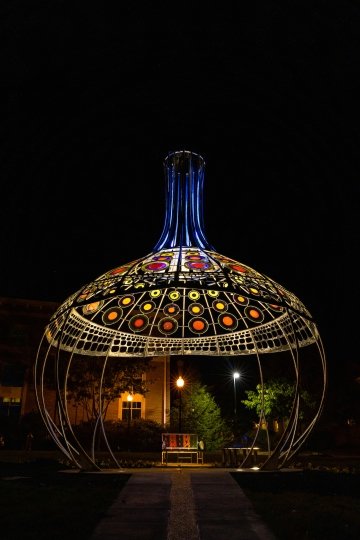 Work by the late internationally acclaimed glass artist Stephen Rolfe Powell '74 is collected throughout the world, but perhaps equally as influential is the legacy he created from his glass art studio at Centre College in Danville, Kentucky—his alma mater and the epicenter of his artistic and professional accomplishments.
Powell's stunning three-foot-high glass vessels shimmering with intricate and colorful Venetian murrine have been displayed in premier arts venues in Italy, Japan, New Zealand and Russia, among other international locales. The Smithsonian Museum also recently acquired one of his pieces for its permanent collection.
Now, returning to the site of Powell's artistic inspiration, Centre will honor the artist with a campus landmark where visitors can experience and appreciate his profound impact on glass art, not only at the College but in every corner of the world.
The Stephen R. Powell Memorial Garden and Outdoor Classroom will be dedicated on Centre's campus during homecoming on October 15. The initiative is spearheaded by Powell's former student and protégé Brook Forrest White, Jr. '91, who was inspired to honor his late mentor with a "larger-than-life tribute."
For more than three decades, Powell inspired generations of students through the College's hot glass program, which he founded and brought to prominence. His eagerness to share his passion for glass provided access to a front-row view of his creativity and eventual worldwide acclaim.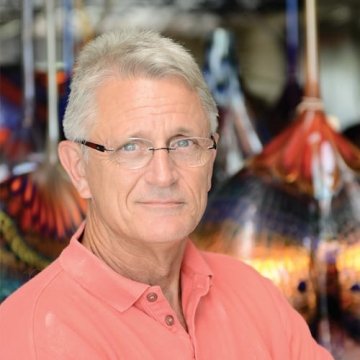 Powell's tremendous talent not only gave rise to his profound influence as a professor but as a preeminent artist, as well, with collectors across the globe taking pride in the acquisition of his pieces. At the time of his death in 2019, he was recognized as one of the foremost glass artists in the world.
"Stephen Powell inspired and influenced a great number of his students, friends and peers. After his untimely death, I felt it was important to create something in his honor to recognize the impact he had at Centre College, in the Danville community and in the glass art world," said White, who is the owner of Flame Run Gallery in Louisville, Kentucky. "Stephen and Centre College changed my life, and I felt there was no better place to create such a memorial garden than on Centre's campus."
White has led a remarkable team over the past two and a half years to bring together his vision and, as he said, "pull off one last Steve project, in true 'Steve-style.'"
"I envisioned a special place having a dynamic presence. The space invites visitors to follow the color and discover a bit of Stephen's personal vibrancy."
The memorial, which is adjacent to the College's Norton Center for the Arts, features a 25-foot-tall sculpture that spectators can walk through, as well as a garden, a walking path, three custom-made artistic benches, and a small amphitheater that will serve as an outdoor classroom. The sculpture— its shape reminiscent of Powell's iconic vessels—is made of stainless steel crafted by prominent Louisville artist Dave Caudill and features large, colorful glass discs crafted at Flame Run. An illuminated circle that incorporates shards of Powell's pieces lays in the ground beneath the towering piece. Other former students who helped create the sculpture and benches include artists Paul Nelson '92 and Paul Hugues '92.
"In many ways, Stephen was larger than life," White concluded. "I hope the sculpture, surrounding garden and outdoor classroom reflect some of his energy and personality."
Through Powell's significant influence and guidance, many inspired art students have gone on to have their own successes, including White. Ché Rhodes '95 led the glass program at Southern Illinois University before launching the glass department at the University of Louisville in 2005. Patrick Martin '86 led the glass program at Emporia State before returning to Centre this year to lead the hot glass program his mentor began, nearly 40 years after his first class with Powell.
"He created a program from scratch that grew into a nationally known undergraduate glass program," Martin said. "His own work and success were a positive source of inspiration for all Centre students. He impacted so many through the years due to his longevity, love of working with students in the studio, and his infectious personality that welcomed and attracted all kinds of students into the glass program."
Professor of English Mark Lucas '75 said that, while the garden sculpture is a fitting tribute to his long-time friend, Powell never gave the first thought to any kind of memorial beyond his art.
"He loved teaching at Centre," Lucas said. "In fact, he couldn't have gotten his work done without all the remarkable student glass crews he brought together. That the site is going to be a one-of-a-kind outdoor classroom is perfect."
Lucas added that the prominent use of color in the memorial is an endearing reminder of Powell's masterful work.
"Steve was obsessed with color, so I'm loving how the sculpture, benches, walkways and amphitheater have so much," Lucas said. "When the lighting and landscaping go in, the site is really going to dazzle. And it's in a perfect spot—in sight of the Weisiger Rooftop Terrace where Steve built Centre's first glass furnace."
Kelly Knetsche, vice president for development and alumni engagement, said the outpouring of donations to bring the memorial to fruition is a testament to Powell's passion and lasting impact as an arts educator.
"Stephen influenced so many lives through his work and this memorial stands in tribute to his indelible legacy," she said. "We are so appreciative of the Corning Foundation, Centre trustees, friends and family, as well as many other donors, who contributed to make the sculpture garden possible."

COORDINATING EXHIBITS
THE POWER OF COLOR: A STEPHEN ROLFE POWELL RETROSPECTIVE
Art Center of the Bluegrass, Danville
Through October 29, 2022
In tandem with Centre's memorial dedication, a retrospective exhibit celebrating Powell's life and work is currently featured at the Art Center of the Bluegrass in Danville. Curated by White, "The Power of Color" exhibit features 26 pieces from Powell's personal collection and will remain on public display through Oct. 29. 
A LEGACY OF GLASS
Jones Visual Arts Center, Centre College
Through October 16
The Jones Visual Arts Center on the Centre campus also features an exhibit honoring the late art professor through works by Powell's former students. "A Legacy of Glass" will be on display through Oct. 16, coinciding with the homecoming weekend dedication.