Hip-hop history, Japanese snacks and much, much more: How Centre College builds an inclusive campus
Hip-hop history, Japanese snacks and much, much more: How Centre College builds an inclusive campus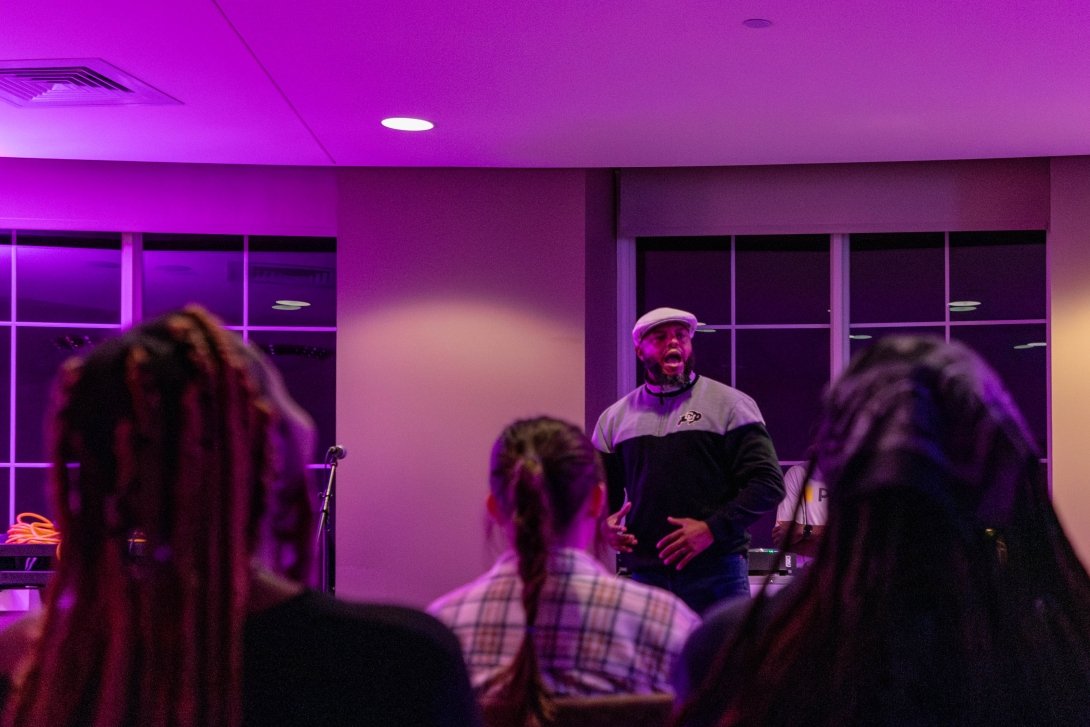 From contour drawing to banned books, from social justice to yoga, Centre College's sixth Building Bridges and Community Day featured an event for everyone on campus.
It's the sixth iteration of Building Bridges and Community Day (BBCD), an event sponsored by the College's Office of Diversity, Equity and Inclusion, that allows for open and thoughtful discussion — from a variety of viewpoints.
"It's an opportunity for campus to slow down and be in community with each other," said Melinda Weathers, director of diversity and inclusion. "The sessions range from small sessions under 30 people to our larger signature events."
Signature events began early in the week with artist, educator and activist Devine Carama, who has also spent time at the College in a mini-residency.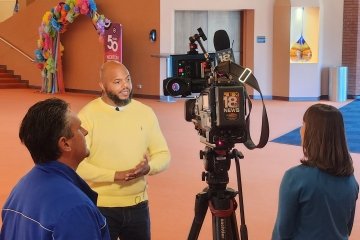 Along with Carama, featured events included "Overcoming Imposter Syndrome and Making Big Asks: Careers and Lessons in Anthropology" with Vice President of Student Life Barbara LoMonaco, and "Our stories: A Panel of LGBTQ+ Persons of Faith" led by Stodghill Professor of Religion Rick Axtell.
In total, there were 46 sessions in the 2023 edition of BBCD, with more than 1,200 members of the campus community participating. Weathers thanked the New Horizon Scholars for helping promote the day's events — and noted that of those 46 sessions, more than half were led by students.
"That's one of the goals I had this year — get more students involved," Weathers said. "That's also in thanks to professors who gave students the option to present a session as part of an assignment or an end-of-semester project."
Some of the sessions shared an in-depth look into a sport like rugby or baseball. Others focused on drawing and art, while other session leaders looked at their own cultural history to share with the campus. For class of 2026 New Horizons Scholar Liz Dickerson, it provided her an opportunity to share about her mother's culture.
"My mother spent the first 16 years of her life in the (Amish) community, learning traditions and values that she still carries with her to this day," Dickerson said. "While I only grew up on the outskirts of the community, I also gained a lot of knowledge and values that have shaped the person that I am. One value that me and my mother both really took away from our respective experiences is the concept of community, and how important it is to build deep-rooted relationships with people who you know will support you through thick and thin. That is the experience that we wanted to share with Centre's community."
The underlying current through all the campus events is to foster connection while promoting a shared understanding and acceptance.
"There are sessions where you are really tackling issues and have a plan to present information and recommendations back to our (ODI) office and staff," Weathers said. "There are sessions where maybe you'd be nervous to do something you had never done before, such as art or a cooking class. Then there's opportunities to say, 'Hey we see some things happening on Centre's campus and, as a community, we can be more responsible and address them.'"
Weathers noted Dickerson's session as an important one because it shared a cultural experience — and it provided Dickerson an opportunity to lead.
"To be able to share a person's culture with the larger campus community is really important," Weathers said. "For students to organize, put a presentation together and speak to their peers, faculty and staff, the roles are reversed. That's why I really like that so many of these sessions were student lead.
"They are most successful when the students are leading, they're bringing their brains — not just the academic side but their personal lives to the community."
Dickerson added that her BBCD experience help cultivate a "safe and understanding community."
"It is so easy to get caught up in your own world and be focused on just your life," Dickerson said. "While your own person should always be a priority, you cannot grow as an individual without learning how the people around you are also growing. Empathy is such an important part of the human experience, and it is so easy to forget that when so much is going on in your life. Because of this, BBCD is an amazing way to take time away from the things that may be stressful and instead focus on learning and connecting with people on campus. While Centre already fosters a connected and active community, there is always room for growth, and I think that BBCD is one of the best ways to encourage that growth." 
Editor's note: This story has been updated to reflect final participation numbers. 
---
At top: Devine Carama led an open mic night on Wednesday night to kick off Building Bridges and Community Day. Photo by Lucy Swenson, class of 2024.