Centre Class of 2023 honored at bicentennial commencement ceremony
Centre Class of 2023 honored at bicentennial commencement ceremony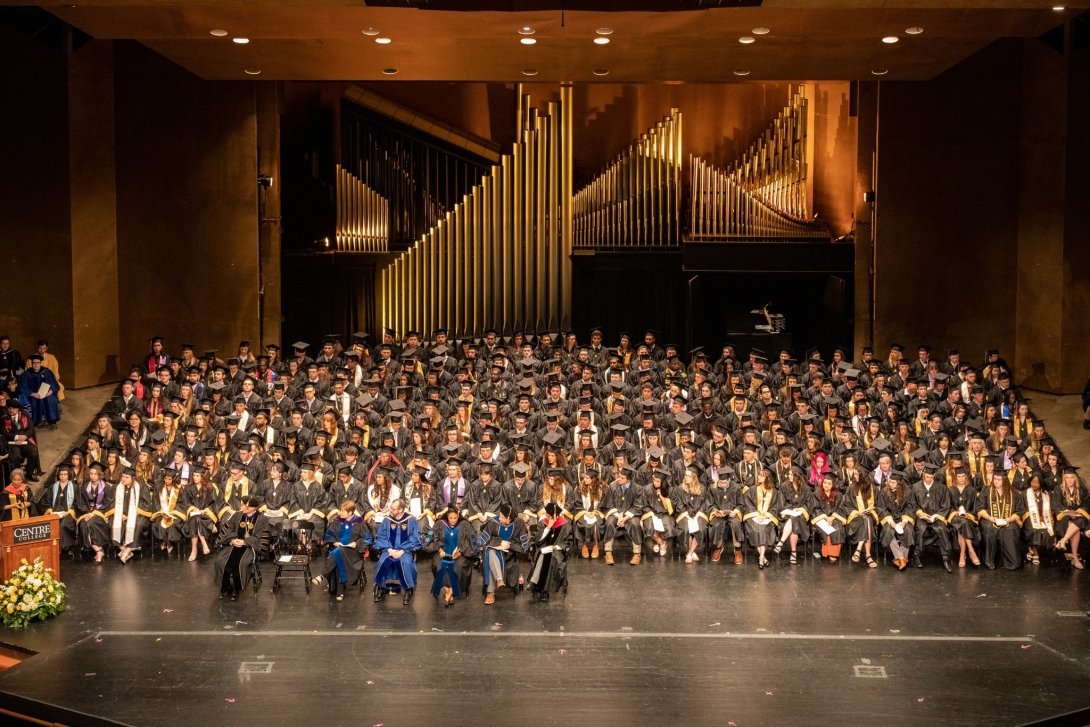 The Centre College class of 2023 entered as the most diverse in school history.
On Sunday, May 21, 288 graduates walked across the stage during the College's 200th Commencement ceremony at the Norton Center for the Arts. Ten countries were represented in the graduating class, with one in five students identifying as first-generation students.
First-generation alumna Nhi Aronheim '96, an accomplished businesswoman, author and survivor, noted the diversity of the class and said she knows "what's it's like to have the anxiety of starting a new life ... I am a refugee, and I've experienced it all."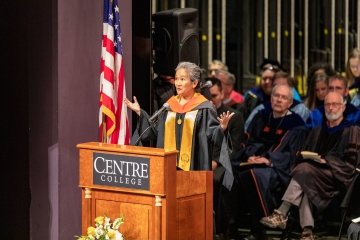 Aronheim escaped war-torn Vietnam as a child and said she "discovered the American dream." She would graduate from Centre with a degree in mathematics before receiving her Master of Science degree in telecommunications engineering at the University of Colorado Boulder.
"Failure is just part of the process that leads you to success," she said. "Embrace your imperfections and embrace your mistakes. It might not come to you overnight, but success is around the corner."
Eleanor Wood Hinkebein, of Louisville, was awarded the Gavin Easton Wiseman Prize as the highest-ranked senior woman in the class. Weston Lee Brown, of Kansas City, Missouri, and Joshua Daniel Sto Domingo, of Los Angeles, California, were tied in class rank, sharing The George Winston Welsh Prize as highest ranked senior man and the Valedictorian Prize.
Among the 288 graduates, 136 graduated with honors: 29 Summa Cum Laude, 57 Magna Cum Laude and 50 Cum Laude. Of the graduates, 34 were inducted into Centre's chapter of Phi Beta Kappa, the nation's oldest honor society for the liberal arts and sciences.
Student Government Association President Imani Smith gave the senior response during the Commencement ceremony, with a charge to her 2023 classmates "to love justice and mercy, and to be bold in seeing it done."
Read Imani Smith's speech.
Reverend Kevin W. Cosby, senior pastor of St. Stephen Church in Louisville since 1979 and 13th president of Simmons College, provided the Baccalaureate address on Saturday, May 20.
"Life is always lived on an incline. You never arrive," Cosby said. "You have to keep on struggling. If you stop striving upward, you will slide."
The class of 2023 joins a strong Centre alumni network, where 98 percent of graduates pursue advanced degrees or are employed within a year of graduation. Notable ventures among 2023 grads include work with Amazon, the Cleveland Browns, Edelweiss Resort and Lodge in Germany, Goldman Sachs and The Hoover Institution at Stanford University.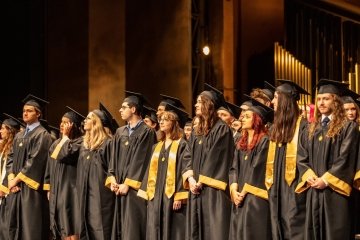 In step with the Centre's commitment to developing lives of purpose and meaningful service across the globe, four graduates will go onto to become Fulbright English Teaching Assistants in Mexico, Spain, France and Taiwan, while others will join the Peace Corps, Humanity in Action, and Posse Foundation.
During his closing remarks to the graduating class, College President Milton C. Moreland urged the seniors to utilize their "Centre toolbox" in their journeys forward.
"May you always take the winding road. May you always, on that road, be kinder than you need to be," Moreland said. "Along your winding road, use your Centre toolbox, your drive and your desire to see equity for others. We want to support you — and celebrate with you — on this winding road in front of you."
---
For more Centre News delivered directly to your inbox, sign up for our weekly newsletter.