The Centre Class of '22 by the Numbers
The Centre Class of '22 by the Numbers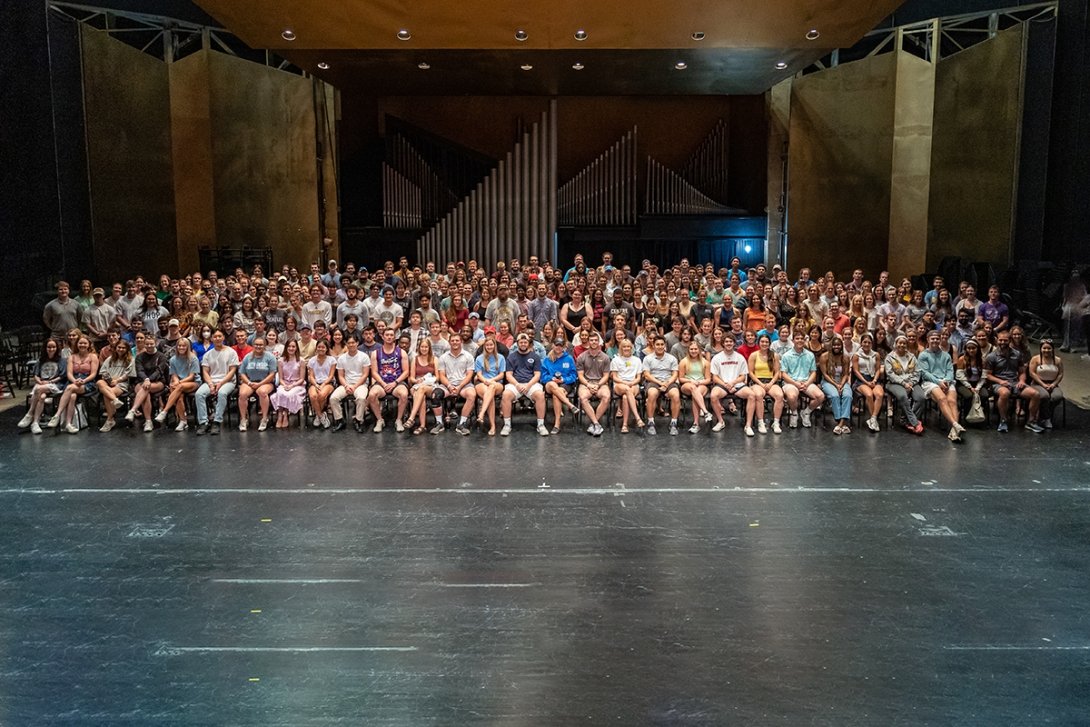 Two-hundred and ninety-three seniors were granted degrees at Centre's 199th Commencement, held on Sunday, May 22, at the Norton Center for the Arts. Upon graduating, the Class of 2022 left a legacy of impressive accomplishments and countless life-changing experiences on campus and across the globe.
As we bid them farewell, here's a final look at the Class of 2022, including a roundup of interesting facts and figures from Commencement 199:
Number of graduating seniors: 293 tassels were turned during this year's Commencement. The class of 2022 differs markedly from the graduating classes of the College's earliest years. Centre was chartered in 1819, and its inaugural class—composed of only two graduates—were awarded degrees in 1824.
Most popular majors: The top five majors for the 2022 class are 1) economics and finance; 2) psychology; 3) biology; 4) international studies; and 5) behavioral neuroscience.
Number of Valedictorians: Two. Veronica Ann Valente and Matthew Brackin Rollo were recognized as this year's valedictorians in a tie for the award. Valente received the Gavin Easton Wiseman Prize and Rollo received the George Winston Welsh Prize.
Number of students receiving honors: 131. Seventeen students graduated summa cum laude, 61 magna cum laude and 53 cum laude.
Number of students in Phi Beta Kappa: Thirty-eight graduates were elected to Centre's chapter of the Phi Beta Kappa Society, the nation's oldest honor society for the liberal arts and sciences. The Centre College Beta chapter of Phi Beta Kappa, established in 1971, is one of only two ΦBK chapters in Kentucky.
Number of Max Cavnes Prizes: Two. Gabrielle Diane Romines and Carter Michael Smith were honored with the Max P. Cavnes Prize, awarded to the best-loved and most-respected seniors in the class.
Number of Bonner Scholar service hours: Over the last four years, Bonner Scholars completed more than 16,500 hours of service to the community. The Class of 2022 included 16 senior Bonner Scholars and Leaders who dedicated their college careers to civic engagement and serving others in the surrounding communities and beyond.
Number of Brown Fellows: Nine. This was the tenth class of Brown Fellows to graduate from Centre. The College partnered with the James Graham Brown Foundation to launch the Brown Fellows Program in 2009. The program is the premier scholarship and enrichment initiative in Kentucky and one of the nation's elite fellowship programs.
Number of Grissom Scholars: Nine Grissom Scholar graduates crossed the stage during Commencement 199. The scholars represent first-generation college students with proven academic achievement, strong character and exceptional potential for leadership and participation in the life of the College.
Number of John C. Young Scholars: During their senior year, eight graduates engaged in independent study, research or artistic work in their major discipline or in an interdisciplinary area of their choosing. The scholars are Willa Cipolla, Emma Fillion, Gabby Romines, Hannah Terry, Veronica Valente, Lucas Williamson, Lindsey Wood, and Nicole Wood.
Number of Lincoln Scholars: Commencement 199 celebrated 10 Lincoln Scholars from the Class of 2022, representing Centre students who have the capacity and a deep desire to change the world. The program offers a full-ride-plus scholarship, including personal mentoring and three summer enrichment experiences, and brings aspiring young change-agents from across the country and around the world to Centre's campus.
Number of Posse Scholars: Seven '22 grads from Centre's thirteenth cohort of Posse Scholars, all of whom are from Boston, crossed the Commencement stage. The Posse Foundation recruits outstanding students from urban school systems in large cities across the U.S. and places them in selective colleges and universities, where they receive full scholarships.
Number of National awards: This year's class encompassed multiple national award winners, including:
Sarah Ali – Benjamin A. Gilman International Scholarship
Analisa Conway – 2022 Rotary Global Grant Scholarship
Emily M. Doyle – Benjamin A. Gilman International Scholarship
Emma J. Fillion – Benjamin A. Gilman International Scholarship
Julian Fischer-Lemon – Fulbright-sponsored ETA in Austria
Ashley Guerrero – Benjamin A. Gilman International Scholarship
Lucas N. Maxey – Cralle Foundation/Joan Cralle Day Fellowship to study medicine
Yash U. Kshirsagar – DAAD RISE Germany
Landy Lin – Bill Emerson National Hunger Fellowship
Megan Peskoe – Teaching Assistant Program in France
Sabah Rainey – Teaching Assistant Program in France
Matthew Rollo – Teaching Assistant Program in France
Hannah Terry – 2022 Rotary Global Grant Scholarship
Number of ROTC graduates: One. With plans to pursue marine aviation, Caleb Anderson '22 was commissioned as a Second Lieutenant in the United States Marine Corps following Sunday's Commencement ceremony.
Nations and states represented: The 2022 graduates hailed from 24 states and seven foreign countries: Bahamas, Bangladesh, Canada, China, India, Japan and Nepal. The class arrived at Centre as one of the most diverse in the College's history—among them, 33 percent coming from underrepresented populations.
Number of First-Generation students: One in five graduates in the Class of 2022 identified as first-generation college students. Centre prides itself as an institution that understands the inherent leadership potential associated with being first in the family to get a four-year college degree.
Percentage of students who studied abroad or away: Despite travel being grounded for two years due to a global pandemic, 196 graduates—67 percent of the class—studied abroad at least once during their four years at Centre. Twenty-eight percent of the graduates studied abroad two or more times. Centre offers one of the nation's leading study abroad programs, giving students a guarantee to travel to a variety of international or domestic destinations as part of the Centre Commitment.
Number of internships completed: 286 of the graduating seniors held an internship during their time at Centre, either receiving academic credit or internship funding as part of the Centre Commitment.
Number of seniors who completed collaborative research in the 2021-2022 academic year: 144 graduates took part in faculty-student collaborative research in the past year. Undergraduate research is another key component of the Centre Commitment, guaranteeing the opportunity for every student.
Number of student-athletes: 109. Throughout their four years, the senior student-athletes collectively achieved 30 conference championships and 25 NCAA team appearances. Among the Class of 2022 are four All-American athletes: Elise Burch (swim & dive); Willis McCutcheon (men's lacrosse); Meredith Wickenheiser (field hockey); and Cameron Zak (women's soccer).
Graduates with siblings who attended or are currently enrolled at Centre: 39.
After graduation: Centre graduates cross the stage career ready, with 98 percent of last year's class employed or pursing advanced study within a year of graduation. Among early returns of graduates reporting "What's Next" plans to pursue further education, 12 have been accepted into medical school and 15 into law school, in addition to others admitted into programs for physician assistants and pharmacy. Members of the newly designated alumni class are also moving on to meaningful careers across the globe, ranging from marine aviation to medical research and traveling to teach English internationally.
While their post-Centre pursuits vary, the 2022 graduates share a common calling as they join the 13,908 proud alumni in the Centre family.