Centre welcomes first Kessler cohort with 2027 class
Centre welcomes first Kessler cohort with 2027 class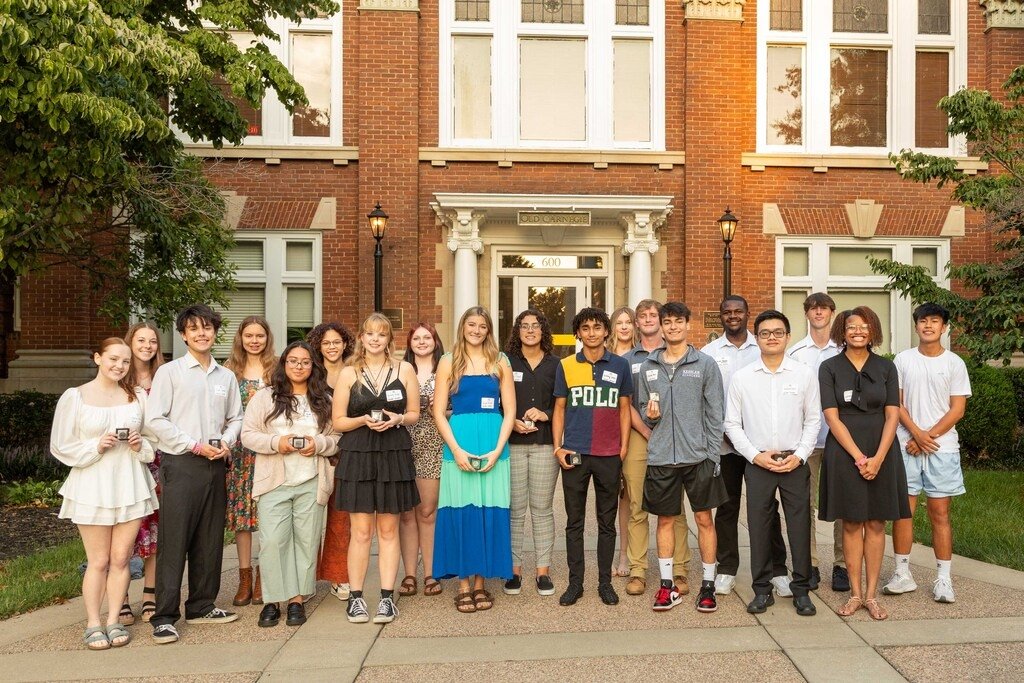 Centre College welcomed the first Kessler Scholars to campus with a coin ceremony, highlighting their affiliation within the Kessler nationwide network.
The special ceremony signaled the beginning of a new journey for 19 first-generation students — an experience welcoming the first Kessler Scholars to Centre College and the Kessler network.
The students will receive mentorship and guidance while engaging in a community of fellow students looking to thrive as the first generation in their families to attend a four-year college. They were welcomed to campus with the Kessler Coin Ceremony, signifying their role in the nationwide program.
"The coin is a signal of their kind of affiliation within the Kessler network, a signal of their participation within the Centre program," said Hannah Stokes '13, director of the Kessler Scholars Program at Centre. "They're the first Kessler cohort at Centre. With that comes a great honor and privilege not just to start something, but to create something that's going to live in perpetuity for more first-generation scholars under the Kessler program."
Last year, Centre received a $1 million grant to join the Kessler Scholars Collaborative, a national program that provides support for first-gen students at 16 colleges and universities, and is funded by Bloomberg Philanthropies and the Judy and Fred Wilpon Family Foundation. Centre also received a separate $10 million grant to provide wraparound funds to first-generation students. The funds provide students with access to experiences like study abroad and away, research and internships and more — helping defray travel expenses, provide work clothes, or cover the costs of an emergency. 
"The program is designed to really be shaped to the students' needs for their development as scholars, young professionals and global citizens," Stokes said. "We'll have programming around those big developmental experiences. For Centre's Kessler scholars, they're committing to doing two high-impact practices, such as study abroad or internships before they graduate. And the Kessler fund allows them to take part in those experiences with less financial pressure." 
Centre's commitment to first-generation student success led to a prestigious recognition from Bloomberg Philanthropies as an American Talent Initiative High-Flier for Transformative Leadership in College Access and Success. College President Milton C. Moreland also earned an invitation to the U.S. Department of Education's recent National Summit on Equal Opportunity in Higher Education. 
At Centre's coin ceremony, Kessler Collaborative Executive Director Gail Gibson was there to present each student with their coin. A representative from Bloomberg Philanthropies was also present to celebrate the students, as were first-generation faculty and staff members.
"(The students) are all the first in their home to go get a four-year degree — that's a really big adventure that takes a lot of courage and a lot of resilience," Stokes said. "I'm asking them to tap into that courage and that resilience as we build what the Kessler program is going to be like for them and the scholars that come after them. They're really excited."
Stokes will help the students plan developmental experiences, and in this first collegiate semester she said the goal is "establishing a firm foundation to flourish" academically. Later in the semester, Stokes will lead the group in community belonging and connecting with peers. Part of the Kessler program is on-campus leadership, which will also be planned this year.
"As we get further along in the program, we're going to talk about developing our leadership style and preparing to implement that style in an impactful way in different areas on campus but also outside of it as well," Stokes said. "Leadership is a strong component within the Kessler spirit. There will be a lot of opportunities for students to engage in leadership roles within the campus program on the Kessler Student Advisory Board."