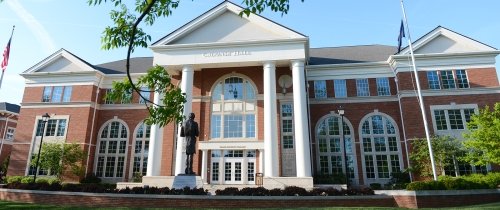 Bloomberg Philanthropies honors Centre for increasing access and success for lower-income students
Bloomberg Philanthropies honors Centre for increasing access and success for lower-income students
Named among 28 national leaders, Centre College was recently recognized as an American Talent Initiative High-Flier for Transformative Leadership in College Access and Success for lower-income students, serving as a model for colleges and universities across the country.
Bloomberg Philanthropies today recognized Centre College as an American Talent Initiative (ATI) High-Flier, a group of 28 high-graduation-rate institutions that are national leaders in college access and success for lower-income students. Centre received the distinction for its steady gains in lower-income student enrollment since 2015-16 and innovative recruitment, enrollment and retention practices. Over the next year, ATI and Bloomberg Philanthropies will work with High-Fliers to amplify what they have learned to other four-year colleges and universities across the nation. The full list of ATI's 28 High-Fliers is listed below.

An initiative led by Bloomberg Philanthropies in partnership with Aspen Institute's College Excellence Program and Ithaka S+R, ATI serves as a growing nationwide alliance of high-graduation-rate colleges and universities grounded in the belief that they can collectively expand access for tens of thousands of high-achieving, lower-income students. By doing so, these institutions are increasing socioeconomic diversity within their respective student communities.
"The economic fallout from the pandemic has made it even more important for schools across the country to adopt innovative new ways to attract and retain students from under-represented backgrounds," said Michael R. Bloomberg, founder of Bloomberg LP and Bloomberg Philanthropies and 108th mayor of New York City. "I applaud ATI's 28 High-Fliers for leading the way in this work and increasing the diversity of their campuses. We hope their efforts serve as an example for other schools that are committed to creating opportunity for more lower-income students, so we can accelerate national progress on this critical challenge."
Since ATI's launch in 2016, Centre has made significant gains in Pell Share among their 137 peers. Through a number of initiatives, the College has demonstrated its commitment to first-generation students — including the Grissom Scholars program, Centre First-Gen, the Kessler Scholars program, Thrive Enrichment Funds and the Schuler Access Initiative. Today, Centre College counts 21% of its student body as first-generation college students.
"Every day, our community demonstrates that an extraordinary liberal arts and sciences education leads to meaningful lives and rewarding careers," said Centre President Milton C. Moreland. "There are countless gifted students from all walks of life who just need an opportunity to excel. We are made stronger by the presence of so many talented Pell-eligible students. Centre College is committed to offering a welcoming, inspiring environment to foster greatness."
This environment has been particularly evident in the two years since Centre reaffirmed its commitment to this work through ATI's Accelerating Opportunity campaign. Along with their fellow ATI members, they set public, aspirational lower-income student enrollment goals for the first time to help combat the lingering impacts of the pandemic. Two years in, the College has already achieved its Accelerating Opportunity goal of a 20% Pell share. They also are advancing a shared commitment among all 137 ATI members to close retention and graduation gaps.
As a result of Centre's leadership in ATI and the Accelerating Opportunity campaign, thousands of additional lower-income students across the United States are accessing and earning bachelor's degrees. Data shows these students are historically more likely to have higher wages, pursue graduate degrees, become entrepreneurs and engage in their communities.
"I'm proud to be at an institution that places importance on ensuring educational access and achievement," said Associate Dean Sarah Scott. "This ongoing commitment to value and affordability for all students is demonstrated by a 46 percent increase in Pell-eligible students at Centre over the last 10 years, as well as the College's plan to increase the number of students who are Pell-eligible or ineligible for federal aid to 25 percent by 2027."
Find more information on ATI and Bloomberg Philanthropies' other initiatives to expand college access and success, here. 

###
List of American Talent Initiative High-Fliers
Baruch College (New York, NY)
Boston University (Boston, MA)
Centre College (Danville, KY)
Claremont McKenna College (Claremont, CA)
Colby College (Waterville, ME)
George Mason University (Fairfax, VA)
Gettysburg College (Gettysburg, PA)
Illinois Institute of Technology (Chicago, IL)
Johns Hopkins University (Baltimore, MD)
Muhlenberg College (Allentown, PA)
Northwestern University (Evanston, IL)
Princeton University (Princeton, NJ)
Rowan University (Glassboro, NJ)
State University of New York at Oneonta (Oneonta, NY)
Stevens Institute of Technology (Hoboken, NJ)
Stony Brook University (Stony Brook, NY)
Towson University (Towson, MD)
University of California, Merced (Merced, CA)
University of California, San Diego (San Diego, CA)
University of Chicago (Chicago, IL)
University of Dayton (Dayton, OH)
University of Illinois Urbana-Champaign (Champaign, IL)
University of Michigan-Ann Arbor (Ann Arbor, MI)
University of Texas-Austin (Austin, TX)
University of Wisconsin-Madison (Madison, WI)
Washington University in St. Louis (St. Louis, MO)
Wellesley College (Wellesley, MA)
Yale University (New Haven, CT)

###
About Bloomberg Philanthropies
Bloomberg Philanthropies invests in 700 cities and 150 countries around the world to ensure better, longer lives for the greatest number of people. The organization focuses on five key areas for creating lasting change: the Arts, Education, Environment, Government Innovation, and Public Health. Bloomberg Philanthropies encompasses all of Michael R. Bloomberg's giving, including his foundation, corporate, and personal philanthropy as well as Bloomberg Associates, a pro bono consultancy that works in cities around the world. In 2022, Bloomberg Philanthropies distributed $1.7 billion. For more information, please visit bloomberg.org, sign up for our newsletter, or follow us on social media. 

About the American Talent Initiative
The American Talent Initiative (ATI) is a Bloomberg Philanthropies-supported collaboration between the Aspen Institute College Excellence Program, Ithaka S+R, and more than 135 top colleges and universities nationwide committed to making progress toward their Accelerating Opportunity lower-income student enrollment goals by 2025. To realize this milestone, ATI facilitates research, practice-sharing, and communications campaigns around presidential leadership, access and affordability, community college transfer, student veteran engagement, and student success and equity in the academic experience. With this support, members can make measurable progress toward their aspirational lower-income student enrollment goals and minimize equity-based graduation gaps by 2025. Learn more at americantalentinitiative.org. 
About Centre College
At Centre College, our 1,400 students obtain an extraordinary liberal arts and sciences education, in a supportive community, leading to a meaningful life and career. Our 10:1 student-faculty ratio means students receive personal support and engagement. The Centre Experience includes study abroad for all, participation in hands-on research or internships locally and around the world, and the chance to engage with alumni and industry leaders in Career Exploration Communities. Located in the heart of Kentucky's Bluegrass region, the College is one of the nation's preeminent institutions for study abroad, with programs from Mexico to Bhutan to France, as well as study away programs in Washington, DC, New York City, and Lake Tahoe, California. To learn more, visit www.centre.edu.