Students pay homage through glass art donation
Students pay homage through glass art donation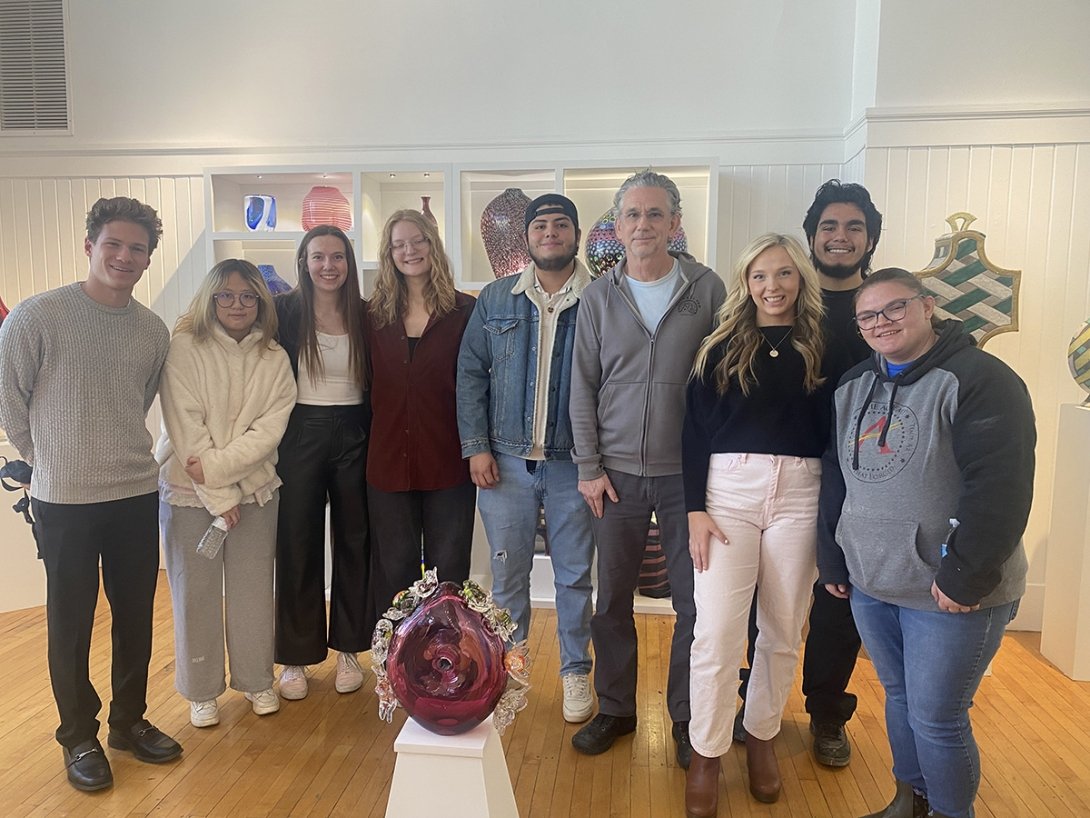 A contribution to the GLASS National Art Museum provided students with the opportunity to thank a former Centre College professor.
As Diego Loera walks through the glass studio in the Jones Visual Art Center at Centre College, he recognizes the impact of a professor he never met.
"He built what we have today — without him, this program wouldn't be here," Loera said.
Loera, a studio art major in the class of 2026 from Phoenix, didn't come to Centre for the glass program, but fell in love with glass thanks to the late Stephen Rolfe Powell '74.
Powell's legacy was honored in the grand opening of the GLASS National Art Museum in Danville, Kentucky on Nov. 3. The museum houses a collection of Powell's world-renowned creations.
Loera and his classmates created a piece to donate to the museum at the opening.
"Students all made murrini flowers, something symbolic of (Powell's) work," said professor Patrick Martin '86. "They all made different flowers and patterns, and we made a negative hollow shape to have more refraction of light off of the flowers."
The use of murrini, colorful glass pieces incorporated during the glass blowing process, is one of the many distinctive elements of Powell's work.
Loera, a Posse Scholar, said that Powell's glasswork is inspiring and noted that he and his fellow students were happy to contribute to the museum as a way of saying thanks.
"I think it's a message saying, 'We see Powell's work and we're going to continue,'" he said.
Murrini has turned into a passion for Loera, who can now visit the GLASS National Art Museum regularly for inspiration, classes and more.
"The Powell pieces there, but also eventually to have a museum of glass will be a great source of inspiration and knowledge for students and for Centre, to be able to visit and see different exhibitions," Martin said. "I think it's an interesting thing for the town and the College. And, of course, for glass."
Martin, who was taught by Powell and is now the hot glass instructor at Centre, said that the art presented to the museum is for students — like Loera, who are inspired to create thanks to Powell's vision.
"We just wanted to make something to pay tribute to the founder of the program and the high standards that were set here at Centre for this nationally known undergraduate glass program," Martin said. "For an undergraduate program to have this much notoriety is a very special thing."