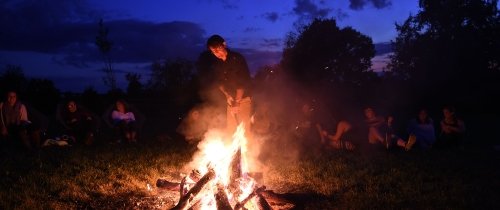 Students in English learn to appreciate the artistry of novels, plays, poems, and stories; to understand the play of themes and ideas in literature; and to be sensitive to the complex relationship between literature and the society it reflects.
Overview
Most students who become majors simply enjoy reading, discussing, and writing about challenging and inspiring works of the imagination. But the skills students develop in studying English—the ability to think sensitively and creatively, to make and evaluate critical arguments, and to write clearly and convincingly—prepare students for a wide array of rewarding and profitable careers.
With small classes and a caring, distinguished faculty, students in English learn to enter sympathetically into the worlds that writers create — from the harsh world of the Anglo-Saxon epic Beowulf to the haunted milieu of William Faulkner's The Sound and the Fury and beyond. In addition to introductory courses, the program's offerings in literature include courses on such authors as Austen, Chaucer, Dickinson, Faulkner, Melville, Shakespeare, and Woolf; and on such topics as African-American literature, early English novels, Irish literature, modern poetry, poetry by women, Shakespeare and film, Southern literature, and 21st-century literature. Except for junior and senior seminars, all English courses are open to all students without special permission.
Your Major Took You Where?
English majors have gone on to a variety of graduate programs and careers.
Employers
Brevard Music Festival
James Graham Brown Foundation
Portland Stage
Southwest Times Record
Wesleyan School
Postgraduate Study
Belmont University School of Law
Carnegie Mellon University
Lipscomb University
University of Kentucky
Wake Forest University
Xavier University
Curriculum
Students who wish to major or minor in English usually begin with surveys of British and American literature, which introduce them to methods of literary scholarship and give them a foundation in literary history. They then choose from an array of upper-level courses in all periods and genres, as well as classes in creative writing and film.