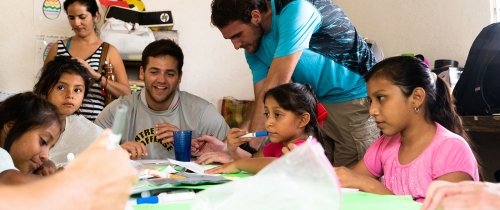 Opportunities for Spanish speakers abound in business, finance, law, medicine, ministry, social work, and translation — and Spanish language teachers are always in demand. Individuals who possess multiple language skills have a distinct advantage on the job market.
Overview
Students are encouraged to develop their language skills both here and abroad. The Spanish Program regularly offers courses in international settings through Centre's program of study in Mérida, Mexico. The program's faculty are also available to help students gain access to reputable programs abroad at other locations.
Activities on campus are available to those students wishing to make practical application of their language skills. Community Based Learning at Centre provides the opportunity to interact with Latinos in the Danville area, as students become involved in community volunteer projects of their choosing. Other opportunities to use Spanish and work in the community include independent study, internships, and the John C. Young Scholars program. The Hispanic Society, open to all Spanish students at all skill levels, meets throughout the year for discussions related to current issues in the Hispanic world. There is also a chapter of the National Spanish Honor Society on campus, Sigma Delta Pi.
Your Major Took You Where?
Spanish majors have gone on to a variety of graduate programs and careers.
Employers
Accipio Language Services
Fulbright U.S. Student Program
Moore High School
Peace Corps
Santander Bank, N.A.
Postgraduate Study
Emory University (M.D., medicine)
University of Kentucky (M.S., medical sciences)
University of Louisville (M.D., medicine)
University of North Carolina (J.D., law)
Wright State University (M.P.A., public administration)
Curriculum
The first two years of the Spanish program focus on establishing a practical knowledge base in the language, concentrating on speaking and writing skills. Many students who have studied several years of Spanish in high school are able to test into intermediate or advanced-level courses. Mid-level courses focus on advanced composition and conversation skills, Peninsular and Latin American culture, and introduction to linguistics and literary analysis. Upper-level courses concentrate primarily on the literature, culture, and cinema of Spain and Latin America.