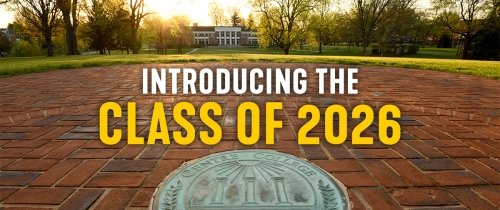 Centre College celebrates the Class of 2026
Centre College celebrates the Class of 2026
Centre College received a near record-breaking 407 first-year deposits for the Class of 2026, the second-highest number of commitments Centre has ever received by this date. According to Bob Nesmith, Dean of Admission and Financial Aid, 48 percent are out-of-state or international students, including 27 students from 15 countries abroad. All figures are Centre's highest since 2017, and the number of countries may set a record for a single class. 
Nesmith says, "This class is the culmination of a year in which we have received a record number of applications and lowered our acceptance rate by several points. It also represents a lot of effective and creative work by many members of the Centre community." 
Centre College President Milton Moreland praises the outstanding credentials of this incoming group of students. 
"These impressive numbers prove that talented young people value the foundational, broad-based education provided by Centre, one of the nation's best liberal arts and sciences institutions," Moreland says. "They also recognize it as a place where students can grow and learn together in an inspiring and supportive community as they develop into the leaders and thinkers of the future." 
The academic profile of the incoming class is among the strongest in Centre's history, second only to last year. The class is also among Centre's most diverse, with thirty percent of students coming from groups traditionally underrepresented on campus, including 75 first-generation students, 10 of whom will receive the prestigious full-tuition-plus Grissom scholarship. Additionally, forty-six students in this class received national and premier scholarships to attend Centre, including 10 Brown Fellows, 10 Lincoln Scholars, 20 Posse Scholars and six Bonner Scholars. 
Students in the Class of 2026 are also the first to have the option to pursue Centre's new major and minor in Chinese, which takes full advantage of a liberal arts education in its design. 
This incoming class will also benefit from the $50 million Initiative for Wellness and Athletic Excellence, a 135,000-square-foot facility currently under construction. When complete, it will house a 10-lane, 50-meter pool with a moveable bulkhead and integrated diving well; a six-lane, 200-meter indoor track and turf infield; and a 6,000-square-foot strength and wellness center. Baseball, lacrosse, football, and track and field will benefit from related projects that include new stadiums, playing fields and an eight-lane track.