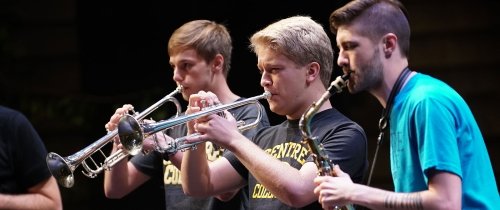 Students can study composition, music theory, conducting, music history, world music, ethnomusicology, jazz, rock, and musical theater in addition to any jazz, orchestral, or bluegrass instrument, or voice. Centre's music program welcomes all students wishing to take private lessons, courses, or to participate in one or more of our instrumental and choral ensembles.
Overview
Whether you want to play in a first-rate college orchestra or sing in a choir, perform in an opera or musical, play in our Kentucky music ensemble, work with world-class artists who come to the Norton Center for the Arts, or study music from some of our internationally acclaimed faculty, Centre's music program is brimming with possibilities.
Our music program seeks to provide a meaningful, high quality experience in music for every student. Students will be enabled to listen perceptively and communicate clearly about music and broaden their appreciation of musical styles. They will develop and understanding of the interrelationship of the history, theory, and practice of music. They will become more accomplished, creative, and expressive musicians through participation in applied study and performance organizations. Students with professional aspirations in music will be prepared for employment and graduate studies in the discipline.
Your Major Took You Where?
Music majors have gone on to a variety of graduate programs and careers.
Employers
Kentucky Center for the Arts
Louisville Orchestra
Prague Summer Nights: Young Artist Music Festival
Savannah VOICE Festival
The VOICExperience Foundation
Postgraduate Study
Boston University (M.A., musicology)
University of Kentucky (M.A., music therapy)
Ohio University (M.M., trumpet performance)
Colorado State University (M.M., voice performance)
Florida State University (M.M., voice performance)
Curriculum
Centre's music program reflects the fast-changing intercultural landscape of the music industry, music education and related fields. As such, a wide variety of courses are offered to enhance student preparation, including world music, hip hop, songwriting, the Grateful Dead, jazz, music theory, the Beatles, bluegrass, opera, conducting, music production, romanticism, protest music, improvisation, the Great American Songbook, and more.