The Centre Class of 2023 by the numbers
The Centre Class of 2023 by the numbers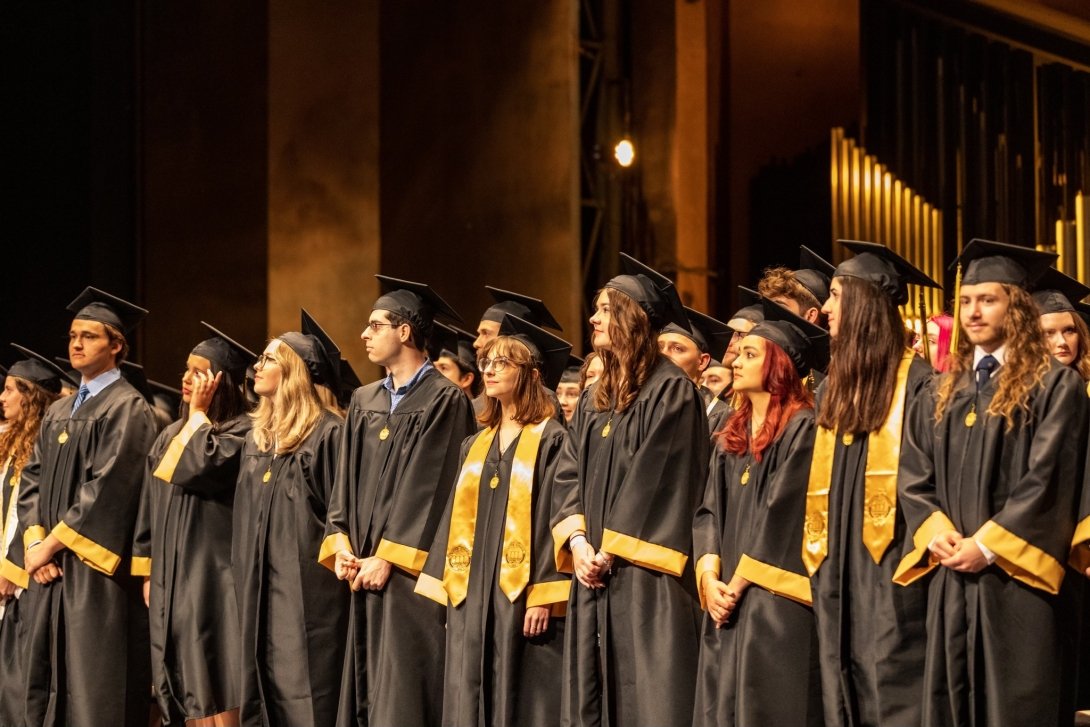 For two centuries, Centre College has sent future leaders into the world. The latest graduates were honored Sunday, May 21 at the bicentennial Commencement ceremony at the Norton Center for the Arts.
It was the most diverse class in the College's history upon arrival four years ago — and it's a class that President Milton C. Moreland encouraged in his address to "succeed at extraordinary levels and lead purposeful lives of continual curiosity and discovery."
Let's take a closer look at the class of 2023 and the 200th Centre Commencement – by the numbers.
288: The number of seniors who earned degrees 200 years after the inaugural class in 1824, which was composed of only two graduates.
31: Number of states represented by the 2023 graduates.
11: Countries represented (including the United States).
Top 5 majors: 1) economics and finance; 2) politics; 3) biology; 4) international studies; and 5) behavioral neuroscience.
2: Valedictorians. Weston Lee Brown and Joshua Daniel Sto Domingo were recognized as this year's valedictorians in a tie for the award. Both Brown and Sto Domingo earned the George Winston Welsh Prize as the highest ranked senior man. Eleanor Wood Hinkebein was awarded the Gavin Easton Wiseman Prize as the highest ranked senior woman.
136: Students graduating with honors: 29 summa cum laude, 57 magna cum laude and 50 cum laude.
34: Graduates elected to Centre's chapter of the Phi Beta Kappa Society, the nation's oldest honor society for the liberal arts and sciences. The Centre College Beta chapter of Phi Beta Kappa, established in 1971, is one of only two chapters in Kentucky.
2: Max P. Cavnes Prizes awarded to Brandon Terrell Clay and Seoyoung Hu, the best-loved and most-respected seniors in the class, selected by students.
213: Students who studied abroad or away at least once during their four years at Centre. Despite travel restrictions due to the COVID-19 pandemic early in their college experience, 75% of the graduates studied abroad or away during their time at Centre, 27% studied abroad two or more times, and 10% studied abroad three or more times. Centre offers one of the nation's leading study abroad programs, guaranteeing students the opportunity to travel to a variety of international or domestic destinations.
240: Number of internships the graduates completed during their time at Centre, either receiving academic credit or internship funding.
101: Number of seniors who completed collaborative research in the 2022-23 academic year. Undergraduate research is a key component of the Centre experience.
6: Members in the inaugural cohort of Atkins Scholars who worked closely with faculty advisors to implement yearlong research projects, with a key program goal being to prepare scholars to confidently integrate inclusion and equity practices in future professional and academic endeavors.
11: Bonner Scholars and Leaders who dedicated their college careers to civic engagement and serving others in the surrounding communities and beyond.
10,805.75: Hours completed by the Bonner Program's graduating seniors — half of that time during the COVID-19 pandemic. 
10: Brown Fellows in the 11th class of Brown Fellows to graduate from Centre. The College partnered with the James Graham Brown Foundation to launch the program in 2009.
10: Lincoln Scholars who graduated among the class of 2023, representing Centre students who have the capacity and a deep desire to change the world. The program offers a full-ride-plus scholarship, including personal mentoring and three summer enrichment experiences, and brings aspiring young change-agents from across the country and around the world to Centre's campus.
9: Posse Scholars from Centre's 14th cohort, all from Boston, Massachusetts, who crossed the commencement stage in 2023. The Posse Foundation recruits outstanding students from schools in metropolitan cities across the U.S. and places them in selective colleges and universities, where they receive full scholarships. Centre will celebrate 18 years of partnering with the Posse Foundation this fall.
7: John C. Young Scholars who engaged in independent study, research or artistic work in their major discipline or in an interdisciplinary area of their choosing during their senior year. The scholars are Kristen Bryant, Joshua Daniel Sto Domingo, Christopher Hammond, Hoang Le, Lam Tran Hoang Le, Kevin Sivakumar and Ethan Tarpley.
9: Grissom Scholars graduated during Commencement 200. The scholars represent first-generation college students with proven academic achievement, strong character and exceptional potential for leadership and participation in the life of the College.
55: The number of graduates in the class of 2023 who identified as first-generation college students, or nearly 20 percent. Centre prides itself as an institution that understands the inherent leadership potential associated with being first in the family to get a four-year college degree.
18: National award winners, among the students recognized for extraordinary achievement during the 2023 Honors Convocation:
Uliana Bazavluk — Schwarzman Scholar in China
Alexandra M. Boardman — Cralle Foundation/Joan Cralle Day Fellowship (graduate school)
Kathryn L. Bonney — Japan Teaching and Exchange Program
Jacob H. Bradley — Humanity in Action in Berlin
Kristen R. Bryant — Critical Language Scholarship (Mandarin), Fulbright U.S. Student Program ETA in Taiwan
Elise K. Burch — Fulbright U.S. Student Program ETA in Mexico
Mackenzie R. Chiders — Japan Teaching and Exchange Program
George Hutton Cooley — Cralle Foundation/Joan Cralle Day Fellowship (professional school)
Benjamin C. Harnden — Peace Corps in Kyrgyzstan
Anna M. Impellitteri — Peace Corps in Paraguay
Jayla R. T. Johnson — Benjamin A. Gilman International Scholarship in Morocco/Spain
Sarah M. Matthews — Fulbright U.S. Student Program ETA in Spain
Una Mijatovic — Fulbright U.S. Student Program ETA in France
Katie P. Nguyen — Benjamin A. Gilman International Scholarship in Ghana
Chas E. Nystrom — Bill Emerson National Hunger Fellowship
Mai Thi Xuan Pham — Princeton in Asia (Mongolia)
Eleanor M. Savors — Fulbright U.S. Student Program ETA in Mexico (alternate)
Imani N. Smith — John Robert Lewis Scholars & Fellows Program
Lorena Bonet Velazquez — Truman-Albright Fellows Program
3: ROTC graduates. Second Lieutenant William Cline is branching into the Kentucky Army National Guard Field Artillery and will attend Field Artillery Basic Officer Leaders Course at Fort Sill, Oklahoma. Second Lieutenant Katelyn Hollingsworth is entering the Kentucky Army National Guard as a Medical Service Officer and will attend Medical Service Basic Officer Leaders Course at Fort Sam Houston, Texas. Second Lieutenant Makena B. McMurtrey, who recently commissioned as an Intelligence Officer in the United States Air Force, will undergo initial training at Goodfellow Air Force Base, Texas.
31: Conference championships won by student-athletes, including 29 NCAA championship appearances. In the past four years, Centre student-athletes have earned an All-American distinction 47 times. Student-athletes of the Year were members of the 2023 class: JP Vaught (four-time National Champion in track and field, three-time All-American and 3-time SAA Track Athlete of the Year) and Mills Mullen (second team All-American women's soccer player, two-time SAA Offensive Player of the Year
98%: Centre graduates cross the stage career-ready, with 98% of alumni employed or pursing advanced study within a year of graduation. Members of the newly designated alumni class are also moving on to meaningful careers across the globe, ranging from marine aviation to medical research and traveling to teach English internationally.
13,990: Centre alumni. While their post-Centre pursuits vary, the 2023 graduates share a common calling as they join the proud alumni in the Centre family.